According to an alleged leaked Google document, Google Wallet will be officially launched today during the NFC World Congress in the French Riviera. Google supposedly released this document to its partners but it leaked to multiple sources online, Here is the document as it appears on many sources on the web: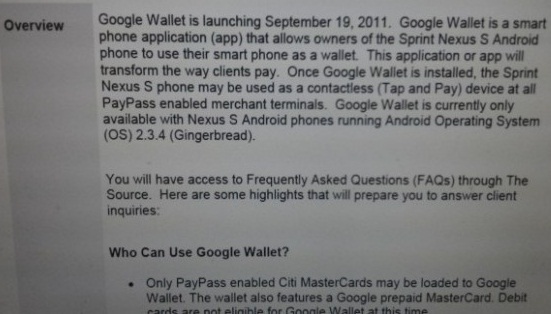 Tap To Pay, Today?
Google announced for the first time on its aspiring service on late May this year. It has been said that the mobile app/service is at field testing and it will be released "soon". According to the leaked document, it appears that "soon" is in fact, today…
However, Google isn't registered at the congress as presenter, but its service partner MasterCard is the official sponsor, so it isn't clear from where and how it will be announced (if at all).
The reason this service is receiving so much attention even before its official launch, is because its revolutionary mechanism Tap To Pay. With this mechanism, costumers can pay from anywhere on things they want to buy with a simple click on their smartphone, without the need for cash or credit card.
Limitations And Timing
Even if the service will be launched today, it still has some limitations- Smartphones must have the compatible hardware for it (NFC chip), which very few have. It was rumored that Google has a solution for it with special stickers, but it still unclear if they ready yet.
Google is planning to launch its next smartphone later next month (with the NFC chip), so the timing to officially launch Google Wallet today, is pretty logical. Will we see a revolution in the shopping industry today or we'll just have to wait a little longer? Soon, we'll have the answer…
Video: First Google Wallet Customer