In the shadow of firing its CEO Carol Bartz and the rumors its for sale, Yahoo introduced new design and interface for its search with new tabs like images, video, news and more. Business as usual?
The changes suppose to give the user more convenient search experience with cleaner design, better sorting with tab topics and improved filters. From first glance, i have to say that it looks pretty good and definitely feels more comfortable…
Let's review some of the changes:
Web Search- It certainly looks more clean, friendly and focused on search without any distractions around. When you search for popular brand or person, you can find very varied search results from many sources- Take for example this search i made on the actress "Angelina Jolie":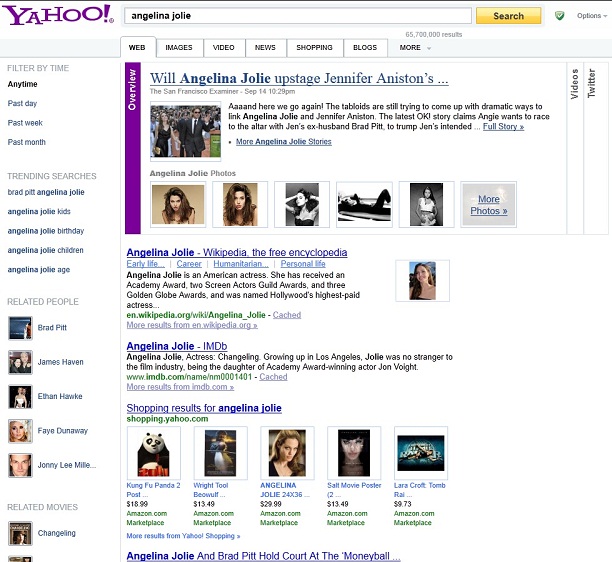 At the top you can find the recent news, photos, videos and Twitter mentions. On the left side you can see the familiar filters (time, trending) and additionally you can find related people and movies. Very nice!
News Search- Yahoo personalized news algorithm from the site's homepage was a winner for Yahoo for the last few years, but from what i examined it still not operates on the search. What i did found is a new filter on the side for news sources (CNN, Fox News, Forbes, etc.).
Video Search- The video search also looks better and can be also filtered to sources like Metacafe, YouTube and more. What Yahoo innovate here is a preview option when you hover with your mouse over the video, which make it very easy to find and browse through videos.
Image Search- The image search got its major upgrade last month, but now a new feature has been added- Connect with Facebook. This can help you find images from Facebook (only public images) easily. Here's an example of Facebook image search for "Cristiano Ronaldo":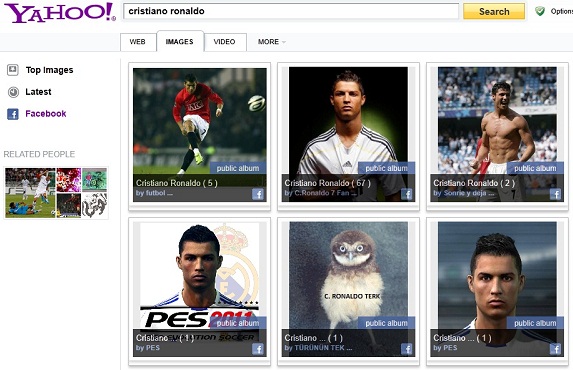 Conclusion:
Like i stated in the beginning, i am very impressed from the new design and interface. If Yahoo will continue to renew and innovate like it did here, we might even see a comeback from one of the senior internet companies…