After few months of dropping while LivingSocial grew, the tables have turned and Groupon is taking back some if its share from LivingSocial- A report from Yipit (Popular daily deals finder), shows an increase in revenue and market share of Groupon on the expense of LivingSocial in North America…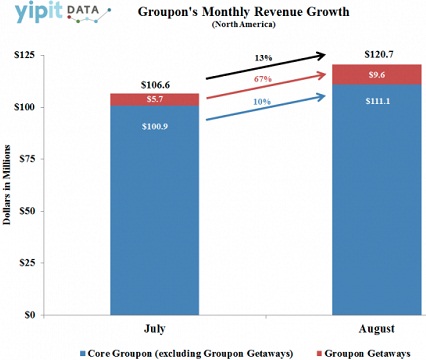 The revenue of Groupon has rose by 13% to $121 million in August compared to July, compared to LivingSocial who lost 3% of its revenue to $45 million. This also reflects in terms of market share: Groupon took another 2% standing now at 53% on the expense of LivingSocial who lost 2% and now stands at 20%.
The whole daily deal industry also grew: The total number of deals increased from about 29K in July to about 31K in August and in terms of revenue from $209 million to $228 million, which reflects a 9% increase.
Where Is Google Offers?
After failing to acquire Groupon, Google launched its own daily deal site at the beginning of June- Offers. About a week ago Google announced Offers is expanding to five more cities and now you can find deals in the following cities: Austin, Boston, Denver, New York, Oakland, Portland, San Francisco, Seattle and Washington D.C.
It is still pretty premature to determine if Offers would manage to compete with the monopoly of Groupon after other giants like Facebook have failed and closed their deals services, But as online business owners and consumers the competition is good for us- All deal companies will give us more attractive offers.
You can read the full report by Yipit here: