An automated email marketing campaign (also known as "lifecycle email marketing") can be a powerful tool when used properly. According to studies and reports, almost half of all companies in the world that offer online services use this kind of marketing campaign methods. In this post you will analyze what are the most common automated email marketing campaigns and for what benefits they are used.
Most Common "Lifecycle" (Automated) Email Marketing Programs
46% of all companies worldwide are using "lifecycle email marketing" campaigns, many of them use more than one program: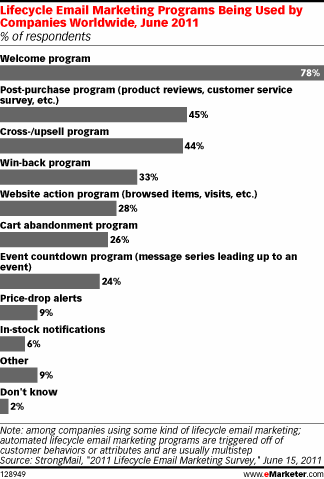 78% of the companies are using a "welcome" program and it is by far the most common program. Faraway behind, you can find programs to preserve relationship with clients for future sales like "post-purchase" (45%) and "cross-sell/up-sell" programs. Other common programs are "win-back customers" (33%), "actions on site" (28%), "cart abandonment" (26%) and "events countdown" (24%).
While most companies (57%) find these kind of marketing programs effective, considerable part of the companies (39%) didn't measure or unsure about their impact. Let's analyze the benefits of the effective companies email campaigns.
Benefits Of Automated Email Marketing Programs
More Subscribers (67%)- Adding more subscribers increase the potential for future sales.
Better Performance (55%)- Meaning in terms of traffic and clicks.
Retention Of Satisfied Customers (54%)- Reinforcing the connection with clients.
More Revenue (46%) and Higher ROI (45%)- Sales, ads, etc.
Fewer Emails But More Profitable (38%)- Optimized messages.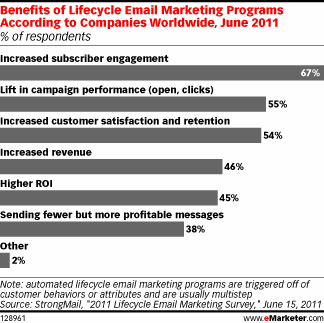 Work From Home Conclusions:
Automated email marketing campaign can certainly be a powerful booster for the business client base and revenue. However, it is important to measure its success and performance to optimize it. Also, it is important not to overwhelm the clients with big amount of messages that can hurt the whole campaign.