The holiday season is always busy time for online retailers and people are starting to shop a little before it begins. But this year, online retailer should consider another vast growing aspect- Mobile use. To help retailers with their online business, Google released mobile insights for the holidays to retailers.
The Busiest Days Of Retailers Mobile Search
Google examined the 2009-2010 mobile searches for retail brands to check what are the busiest shopping days, where people search mostly for retail stores and shopping online: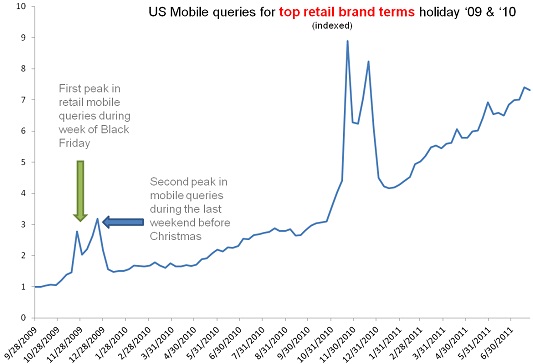 We can see that the biggest peaks in 2009 were during the week of Black Friday and during the last weekend before Christmas. The same thing happened in 2010 where the biggest peaks occur during the same times.
Another thing we can see is the steep incline in mobile searches- During the peaks in 2010 there were almost triple more retail searches than in 2009! We can safely assume that we will see another steep incline this year compared to 2010.
Other Mobile Holiday Insights:
–  15% of all Black Friday searches this year will be from mobile devices.
–  44% of all last minutes gifts and stores location searches will be from mobile devices.
–  65% of mobile device users who shopped at a physical store, found it through their device.
–  Tablet users not only active in the holiday season but also big spenders- They spend 50% more than PC users.
When Smartphone and Tablet Users Beginning to Shop?
For our convenience, Google also distinguished between smartphone and tablet users on when they start their holiday shopping: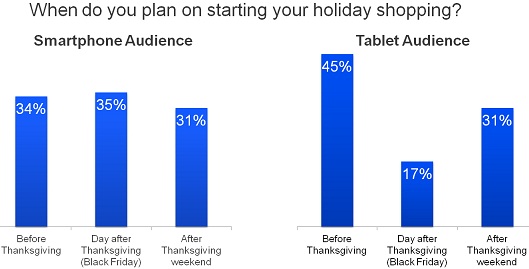 We can say that smartphone users will shop twice as much as tablet users on Black Friday and a little less before thanksgiving.