Mobile, mobile, mobile… Lately, this is the only thing i hear and read people are using and interest in. And if that is the case, we should surely investigate it and understand it for our work from home. For that purpose i will use this study from Pew Internet and try to analyze how many are using cell phones/smartphones and what for.
Cell Phone Usage By Adults
We can see from the study that the big majority of adults (83%) in the US are using some kind of cell phone. For 42% from those who uses cell phone, it is a smartphone. It means that 35% of all adults in the US are smartphone users, which is a pretty considerable percentage.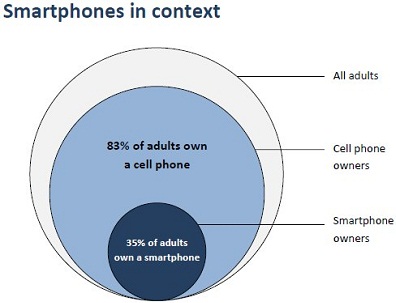 How US Adults Use Cell Phones
Before i analyze the smartphone users activity, i want to examine how all people use their cell phone (smartphone or not). Although i predict that in a few years almost all cell phone users will use smartphones, today the situation is different and most cell phone users don't use a smartphone.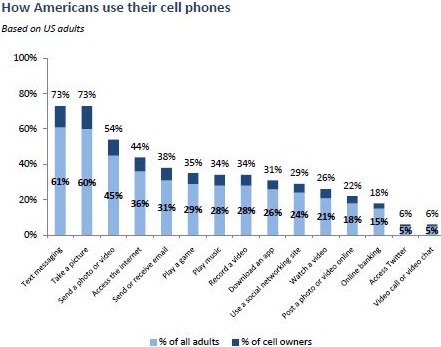 As you see, cell phone users mostly like text messaging (73%), taking pictures (73%) and sending videos and photos (54%). More advanced usage methods like accessing the internet (44%) and social networking (29%) are still less common.
Smartphone Users Activity
Logically enough, when more advanced devices are in use, then the users activity is also more technological advanced: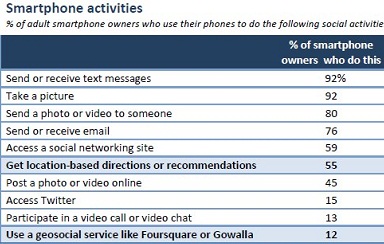 If we compare it to the general usage of all cell phones we can see that the most common activities are also text messaging (92%) taking pictures (92%) and sending videos and photos (80%) but with a higher rate.
Also, more popular activities for smartphone users are- Email (76%), social networking (59%) and getting location directions like maps or GPS (55%).