Carol Bartz has been fired as Yahoo CEO. I can't say it was a surprise after weak financial results over the last year and many are even saying that it was long overdue and should have happened a while back.
Yahoo officially announced "Leadership Reorganization" yesterday- Yahoo's CFO Timothy Morse will replace Carol Bartz temporary until the company will appoint permanent CEO. Will the company manage to restore now its huge brand popularity of the past?
Bad Moves Leading To Weak Results Leading To Getting Fired Over The Phone
Bartz appointed as CEO in 2009 replacing Jerry Yang, the founder of Yahoo, after he also got fired due to the failure of Yahoo acquisition by Microsoft. She made it very clear from the beginning that she intend to bring Yahoo back to its glory days.
In 2010 she shut down the mobile division, only to see it later as the fastest growing industry, while all of Yahoo competitors are taking more and more pieces of this pie.
Bartz also refused to work alongside Google and decided to co-op with Google's rival, Microsoft and assimilate Bing as Yahoo search provider. The search alliance is yet to succeed as expected and Yahoo advertising share dropped from 16% to 9.7%.
Since her beginning in 2009 Yahoo share didn't went up as expected, the company didn't made any significant technological breakthrough and the company's earnings fell.
As a result from the disappointing bottom line stats, Bartz was fired by phone from Yahoo's Chairman of the Board. Later on, Bartz sent a memo to Yahoo employees describing how she get fired (See photo).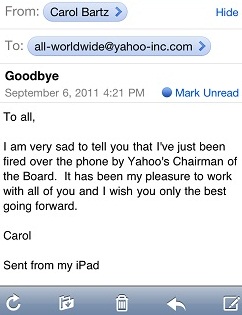 The Future
Yahoo is still one of the biggest web companies and it remained impressively one of the most popular websites for more than 15 years. However, while companies like Google, Microsoft, Facebook and Apple seems to always innovate, renew and grow, Yahoo is stuck. In the competitive fast advancing technological world of today, this will not be enough to survive.