Foursquare, the popular location-based social network is expanding to five more languages, increasing its global growing potential for more 1.5 billion people to use it in their mother tongue. At the same opportunity, they informed that they are hiring for new positions.
This is the second round of translations after in February Foursquare's app was available in 5 additional languages (French, Italian, German, Spanish and Japanese) and now, Foursquare announced in its blog on another round of translation for 5 more languages- Bahasa Indonesian, Korean, Portuguese, Russian, and Thai.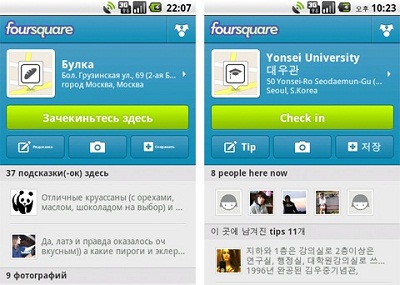 Strategic Important Move
For a company that about 50% of its users comes from countries outside of the US and for most of them English isn't the first language, this is a very important strategic step to become a significant force in the social-mobile world. The "chosen" translated languages didn't got picked randomly, they were targeted towards the countries where Foursquare has the highest growing rate since 2010:
1.  Russia – +365%
2.  Brazil – +360%
3.  Thailand – +318%
4.  Portugal – +234%
5.  Indonesia – +160%
6.  Korea – +140%
I personally believe that the mobile industry will be next year fastest growing industry alongside the social media and Foursquare is exactly the app that connects between the two. Will Foursquare also be at the finish line? I think that it has good chances although big competition from many major companies- The new Google Catalogs for instance, is somewhat a rival in many aspects.
Foursquare Hiring!
It was also mentioned in Foursquare's post that they are hiring, so if you are searching a job in the social media industry, check out Foursquare Jobs (only hiring in the US for this moment). You can also check other social networks jobs and careers for more employment opportunities.