Good news for Twitter! According to a survey by eMarketer among 500 Twitter users about the company's new advertising platform, Promoted Tweets, only about 11% have negative reaction towards it. Also in the survey, about 90% of Twitter members are following brands.
Attitude Toward Promoted Tweets
So far, Twitter can see its new unique advertising platform Promoted Tweets as a success, where most users don't find it annoying and also, more important, engage with it: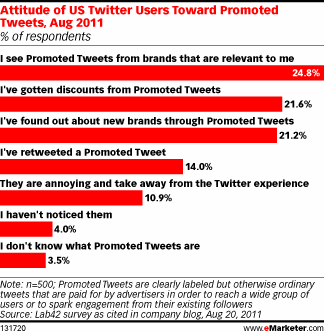 Users see promoted Tweets from relevant brands (24.8%), Getting discounts from them (21.6%), discovering new brands (21.2%) and even Retweets them (14%). It means that 81.6% of Twitter users are engaging with Promoted Tweets! This is while only 10.9% find them annoying and 7.5% didn't noticed or don't know what are they.
These stats are just might showing that Twitter has found its golden advertising formula: Not disturbing, blends perfectly and highly engaging among the users. If you are looking to socially advertise your work from home it might be an excellent possibility, especially if you are offering some kinds of deals of discounts, what many people likes and look for.
Following Brands
The survey has also found that Twitter users loves to follow brands:
89.4% of the users are following at least one brand, 58.8% follow more than 5 brands, 39.2% follow more than 10, 21% follow more than 20, 11.6% follow more than 30 and 8.2% follow more than 50.
If you are considering advertising on Twitter using Promoted Tweets, you can see these stats as positive reinforcement- People love to follow relevant brands, so you can build easily a circle loyal followers for future marketing efforts!