Facebook members could have discovered in the last 24 hours a new "Friends Ticker" feed that was added on their sidebar account, however after only several hours it was removed without any notice. Was it a mistake? Test/Experiment? Or maybe the company got scared from bad feedback?
Let's review the options, but first, this is how the Friends Ticker looked like: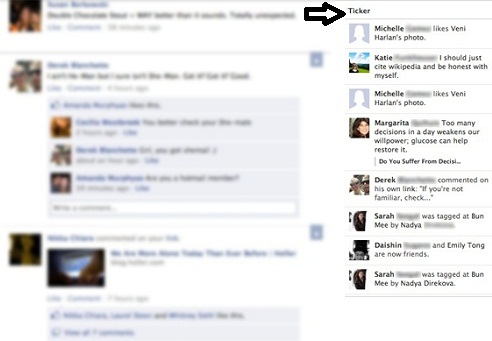 Mistake?
Some Facebook employee integrated this feature by mistake and when the company found about it, it was immediately removed. For my opinion, it is very unlikely that it happened.
Regret Due To Negative Feedback?
Right after the Friends Ticker appeared there were many negative reviews and feedback across the web. Facebook got scared and removed it. Possible, although not probable. I don't think that Facebook would have been satisfied with just few hours of bad experiences.
Test/Experiment?
Facebook intentionally rolled it out just for several hours to examine the users reaction, opinion and engagement. It is pretty common for online companies to do these kind of experiments (Google did it two weeks ago with the infinite scroll page), so this is my best guess to what happened.
The Friends Ticker Feature Logic
Facebook knows that the most engaging feature in social networks is the news feed (see this engaging study of Google+ and Facebook) and it tries to improve it constantly- Just 3 weeks ago Facebook presented the new "grouped" news feed that merge related posts. It is logical to assume that Facebook would want to increase the users engagement by showing a secondary news feed (The Friends Ticker) on the sidebar.