Although that Google is a bitter rival of Facebook, apparently it responsible for a lot of it success. How much responsible? About 27%… According to a study by PageLever (analyzing Facebook pages website), Google is responsible for 27% for the external traffic to Facebook.
The study conducted on 1,000 fan pages with at least 10,000 fans each, from January to June 2011. It analyzes only the external traffic to Facebook From Google, Bing, Yahoo and YouTube. Meaning, it doesn't consider internal traffic within Facebook which probably has more weight than external referrals.
Here are the study findings: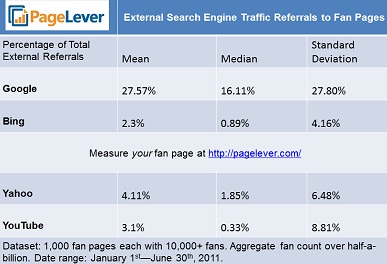 Where Is Bing?
An interesting conclusion from the study is that Bing is responsible for only 2.3% for external traffic to Facebook, Less than one tenth from Google! Also both Yahoo (4.11%) and YouTube (3.1%) driving more traffic than Bing…
The fact that Google driving more traffic than Bing is not surprising, what's surprising is the tremendous gap between the two. Remember that Bing has a strategic partnership with Facebook, so i would have expected a higher percentage!
SEO For Fan Pages Can Be Worthwhile…
According to the study, there are many fan pages that receives almost non-traffic from search engines and there are fan pages that receives huge amount of traffic. This indicates that doing SEO for your Facebook page can be worthwhile to your work at home for couple of reasons:
1.  Increase the traffic for your website from Facebook (Search engine -> Facebook fan page -> Your website).
2.  Improve your brand strength by increasing your presence in the social media (first and foremost on Facebook), which will eventually improve also your site's rankings.
The Web Is Connecting
One last thought i have for you to think of is that all the web is getting more connected and websites become more dependent with one another: Google, Facebook, YouTube, Twitter, Wikipedia, WordPress (that already powering about 15% of all websites) and more are all very much attached. Does the online business future is just a giant chunk of many websites and pages?