The traffic of Groupon, the biggest deals and discounts website, dropped by about 50% while the traffic of one of its biggest competitors, LivingSocial is up by 27%. Was it a mistake to refuse Google 6 billion acquisition…?
From a report released by Experian Hitwise, it shows that Groupon lost almost half of its visitors since its all time high in June 2011. At the same period of time LivingSocial drove 27% more traffic.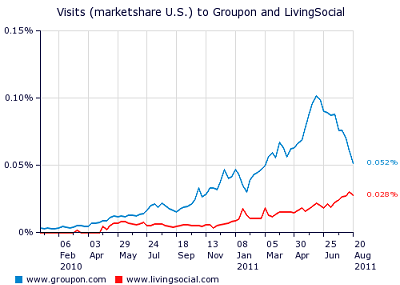 Groupon can be comforted from the fact that the whole deals industry suffered from a drop of 25%, which make the rise of LivingSocial even more impressive. It is important to mention that Groupon still has about 15% increase since the beginning of the year.
Note: The report didn't collected data from mobile devices and apps from mobile, which can somewhat influence, however the general trend shouldn't be different because both Groupon and LivingSocial data has been gathered in the same way.
Google? No Deal!
Even though that LivingSocial was established before, already in 2007, Groupon became the biggest deals website (justifiably) in many countries around the world. Google proposed to acquire it for $6 billion in 2010 but the offer was declined. As a response Google launched its own deals website in 2011, Google Offers.
I know that many of you work at home business owners are using these kind of websites to allure visitors, therefore know that there are good alternatives for Groupon such as LivingSocial and also Google Offers that is gaining momentum.