Know your audience! This is a vital part of your work from home and should be analyzed and understand BEFORE engaging with any marketing effort, because it can change your methods and ways for achieving an effective marketing campaign.
In a prior article, i have discussed when is the best time to market, divided to hours and to days categorized by industries. In this article i want to focus on two other elements- Gender and age. All data are taken from a research conducted by Pew Internet among 2,277 age 18 and older participants.
Gender
More female internet users are using social networking sites than male internet users. 69% of women are using social networks compared to 60% of the men. Although the gap (9%) isn't huge, we can't say its insignificant, therefore if your crowd are clearly mostly females you should consider marketing on social networks more than average.
We can see in the chart below, that until 2008, most social networking users were males, but then the trend has changed and female begun using it more.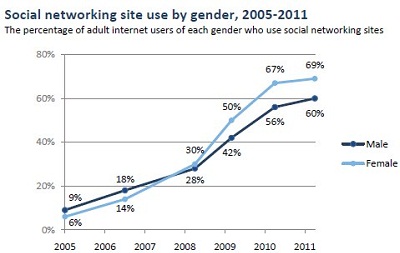 Age
Not surprisingly, the research is pointing out that the more younger the age group is, the more they are using social networking websites. 83% of the people at the age group 18-29 are using social networking sites, while 33% of the oldest age group 65+ are using it.
Therefore, adjust your social marketing efforts according to your age group crowd. For example, if you are addressing people older than 50 years old, consider using less social networks marketing and use other methods more.
Another interesting thing to see, is that all age groups are showing an increase except of the youngest age group of 18-29, which shows a decline of 3% from last year. This match another survey findings that young people have less interest in social networks.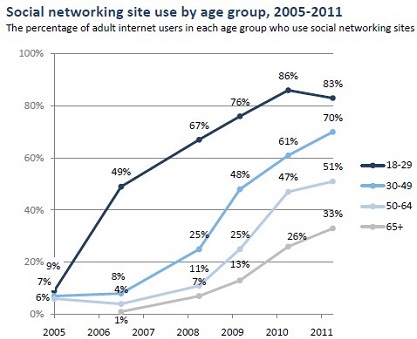 General Population
We can see that in general, social networking users are increasing steadily and almost two thirds of the people older than 18 are using social networks, 43% of them are doing it on a daily basis.