Facebook announced in its official blog on many changes in the sharing, privacy and tagging settings, that suppose to give the users greater control on their contents, locations and photos. Google+ beware?
These changes are expanding the sharing possibilities between friends and reduce the gap between Facebook and Google+ regarding to privacy customization, which until now gave Google+ its major advantages. The changes will start to take effect from tomorrow. So, what are the changes?
Sharing
Facebook has some response to Google+ Circles. Whenever you are sharing something, you will have the option to choose with whom to share it: With the public (replaced the word everyone), only with your friends or you can create a custom list of people. I think that although its only a partial response to Circles, it is still a good solution.

Tagging
Until now, only friends could tag you in photos and they could do it freely. Now, everyone (friends or not) will have the possibility to tag you in photos, however you will have the option to approve or deny it.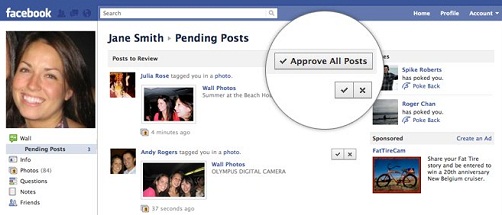 Location Update
Facebook is removing completely the Facebook Places feature, which let only smartphone users update their location. Instead, all users will have the option to add their location to any post, regardless to the device they are using (smartphone, tablet, laptop, PC).

The Social Networks Battle Continue…
Until Google+, Facebook was the undisputed king of the social networking industry. But when Google+ launched, it set new standards for privacy and sharing options. Although Facebook is still the most popular social network, it is beginning to feel Google+ galloping while gathering praises and compliments. So Facebook is trying to fall back in line according to the new standards that Google+ has set.
Although this move to improve the privacy and sharing options has come to Facebook a little late, after too many complaints and even a ban from a German state, i don't think it is too late. But we will have to wait and see if the world is ready for 2 giant social networks or only for one that will eventually prevail…