Google released another update for its products to allow creating "Hangout" (Google+ feature) directly from YouTube. This has been announced on Google+ profile page of YouTube product manager Brian Glick.
You can find the option to create a Hangout from YouTube on the video page after you click the "Share" button, at the bottom right corner of the box that opened. You can see it in this photo: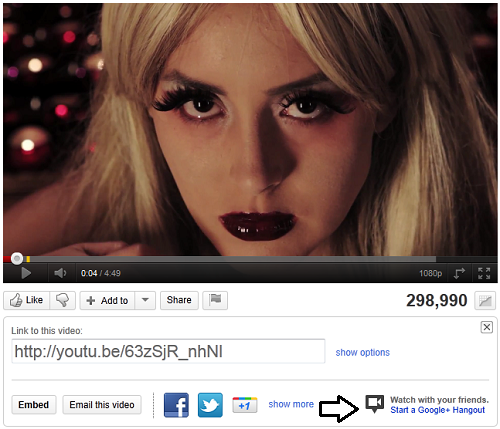 Until now, the possibility to watch YouTube videos with your friends through the "Hangouts" feature was already exist, but the process was more complicated. The user had to start a Hangout first, invite his friends and only then share the video. This new system is much more elegant and simple and will probably make more users to share videos with their friends.
As for the work at home point of view, this will make marketing on Google+ much easier: If you have a blog about new gadgets for instance, and a new product has been introduced, You can create a Hangout with a video about it and invite people to discuss it directly from YouTube.
Connecting Its Products With Google+
Google start to connect all of its products with Google+: Gmail, Picasa, Maps, Search and now YouTube. I think it is a logical move to reinforce all of the company's products and also to keep the users inside Google, on this product or another, which will naturally lead to more revenue (don't forget that eventually Google is a business).
I am guessing that one of the next products will be Feedburner- from the Google Plus Reactions research, significant amount of people "disliked" the fact that it doesn't support yet RSS feeds. After all, the option to create a Hangout directly from YouTube was also introduced after many users feedback…