Foursquare have announced yesterday in their official blog about a new feature in their mobile social network- Lists. While the mobile industry is still shaking from the Motorola Mobility acquisition by Google, Every news from this industry are significant, especially when it comes from the most popular location-based social network…
What is the "Lists" feature and how it works?
The "Lists" feature is a way to create all of your favorite things about, well, everything… Obviously, it is designed mostly to create lists about location based stuff like "Top restaurants in…" or "best places to see in…" but you can create a list about anything you want.
Creating a list is pretty easy: Enter your profile page and you will see this box: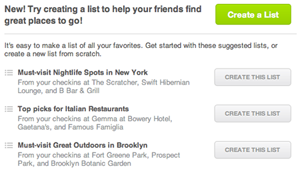 As you see, you can create a new list about what comes up in your mind or you can create a suggested list for you. Finding locations to recommend suppose to be very easy with an auto-complete by Foursquare about places that are already in the system.
Using It For Your Online Business
The Lists feature is currently the best way for branding and marketing with Foursquare. It offers you the exposure possibility to a much bigger audience- Your lists can be shared not only with your friends, but also with the entire community.
I recommend you to base your lists on locations, even though you don't have to because this is the big advantage of Foursquare. For example, a list about "Top internet cafe in Buenos Aires Brought to you by WorkingHomeGuide.com" can be a really effective marketing campaign when people are looking for information about Buenos Aires.
You can be inspired from People Magazine list on L.A.'s Hottest Spots: