Every online business owner that works from home should use videos. Videos can be used for marketing, promoting, branding and adding more value to websites. People today are looking for visual aids alongside texts and videos are a great way to offer that.
Online videos are gaining more and more popularity every year and most internet users are watching videos on a regular basis. In the next diagram you can see the growth of online video viewers from 2008 and also a prediction until 2014: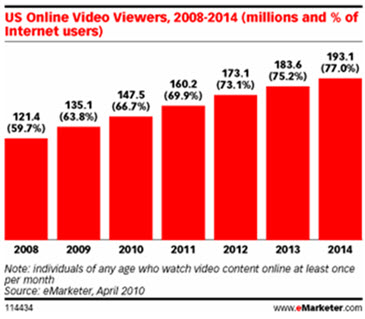 SEO Of Videos
For exploiting to the full the potential of the videos you have created, You should optimize them for search engines. This can help you increase your site's rankings and maybe even also receive search traffic directly to your video.
Video Sitemap
The first thing you should do, is to create a video sitemap. This is very similar to the regular XML sitemap, only it is dedicated to videos and contain only information about that, like:
URL.
Player.
Description.
Keywords.
Date.
How to create a video sitemap?
If you want to create the sitemap yourself i highly recommend to read the Creating a Video Sitemap help page from Google.
You can use online programs or software that will create it automatically like Video Sitemap Pro.
For WordPress: You can install this XML Sitemap for Videos plugin.
After creating the sitemap, submit it to Bing and Google using their webmaster tools services.
Subtitle
Another great way to allow search engines to index and to read your video better is providing subtitle for it. CaptionTube is a great service that can generate subtitles. It also offer the option to export the subtitle directly to YouTube or download it for your website.
Meta Data
When you host the video on your own severs, it is recommended to create meta data on the source code of the video (YouTube is deleting it). The best way i suggest to create meta data for a video is by using Adobe Bridge. In this video you can learn exactly how:
http://www.youtube.com/watch?v=hrJG1qYogME
Social Sharing
Encourage viewers to recommend your videos in social networks like Facebook, Twitter, LinkedIn and Google+. Add social links and buttons near the videos so it will be easy for them to share it.
There are some players that can add the social buttons INSIDE the video like JW Player (The player is free, but it cost to add the buttons addition).