A study by the small business insurance company Hiscox, is showing that small businesses across America are still not marketing in their multitudes in the social media. This in contrary to the big majority of medium and large businesses that market in the social media (according to the social advertising report).
It appears that only about half of small businesses are using social media marketing and only 12% think its a "must". This compared to 80% of medium and large businesses that do use social networks.
From the small businesses that are using social networks marketing, 19% are using Facebook, 15% are using LinkedIn and only 4% are using Twitter. But as long as the number of small businesses that use online social marketing won't come up drastically, we can't conclude too much from this data.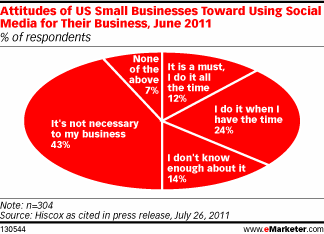 Meanings:
I am assuming that most small businesses that were polled are offline businesses, because it has been conducted by an insurance company that most of its clients are probably operating offline (Most online small businesses don't have such insurance). Therefore i am relating the weak results to lack of awareness for the huge potential the social media is holding.
Social media marketing is improving the brand recognition online and also offline (People has online and offline life) and it is already one of the most popular internet activities. Not using it is just a waste of one of the most powerful marketing tools.