As from the last few days Bing has expanded, in practice, its hold in 7 more countries around the world: 6 from its search alliance with Yahoo and one (China) from the Bing-Baidu deal that starting to take effect.
Bing-Yahoo Alliance In 6 More countries
Bing is now powering the Yahoo search results in six more countries- United Kingdom, France, Germany, Spain, Italy and India. It is too early to determine what will happen in the long run but as for today, it wouldn't make much difference because in these areas Google holds 80%-90% of the search engines market share.
The full countries list that Bing powering Yahoo (Total of 17):
From August 2010- United States and Canada.
From January 2011- Australia, Brazil and Mexico.
From July 2011- New Zealand, Argentina, Chile, Colombia, Peru and Venezuela.
From August 2011- United Kingdom, France, Germany, Spain, Italy and India.
Bing In English Search Results Of Baidu
With all due respect for powering the Yahoo results in six more countries, the big story comes from China, where Google is far behind China biggest search engine Baidu. Since the last few days, if you tried to search something in English on Baidu, you will start to see results also from Bing!
It seems that as for this moment, not every search query in English will show results from Bing and even if it does, You will see only 3 Bing results from the 7th position (see photo). It is probably in some experience mode right now before taking full control.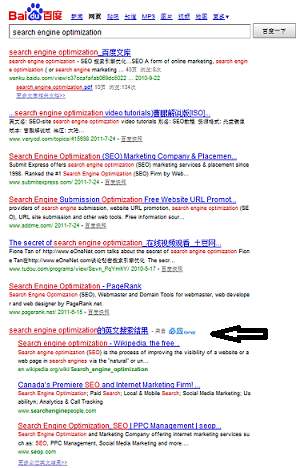 Final Thought
Bing is taking very aggressive steps for trying to compete with the Google domination worldwide. Although that in the U.S. Bing already has about 30% (with Yahoo), It didn't came from Google share… My opinion is that Bing could compete with Google only if they do one thing- Improve their search results to be as relevant as Google's!