Whether you like it or not, Twitter is moving to its new interface design. It doesn't matter if you are still using the old version and didn't upgraded yet, as from this week all users will be upgraded to the new Twitter (read the tweet from Twitter announcing it).
The new interface already been presented 10 months ago and until now only who wanted to use it could choose to upgrade its account, But as from this week, the old look will disappear completely and the new one will take his place.
The New Twitter Look
The new Twitter look contains two columns- On the left side, you will see the old familiar micro-blogging view. On the right side you can see extended details of the Tweets (when you click on them) like photos, videos, retweets and more. Also, if you click on profiles on the left side, on the right side will be open its profile details: Recent tweets, following, followers, website and more.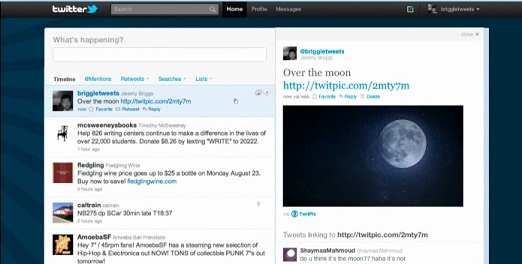 How To Use It When Working From Home
The new Twitter look provides endless creative ideas when working from home, using videos and photos for marketing, branding and even directly selling from Twitter! For example, you can now tweet about new product you offer and add a photo that will show up on the right side of the screen. Or create a video to market your home business and add it to an intriguing tweet… Be creative!
HTML 5 Version For iPad
At the same opportunity, Twitter also tweeted that a new HTML 5 version will come up sometime this week. Does it just the first brick and Twitter would join Google and Bing with their HTML 5 interfaces, for all of its users…?
At any case, here is a short video by Twitter introducing the new design: