The tremendous popularity of social networks isn't new, but until this year it seemed that the social networks companies didn't manage to convert the giant growth into profits and maximize their earnings. However now, according to a study from eMarketer, this is changing.
Many home business owners are trying to expand their online businesses via social networks- Whether its through free marketing campaigns (Profiles, groups, business pages) or whether through advertising. According to the study, the cost of advertising will become more expensive in the upcoming 12 months, especially on Foursquare, LinkedIn and Youtube.
Advertising Situation Today and Future Estimations
About 80% from all businesses with at least 100 employees are marketing in social networks today (free+advertising) and 53% of all businesses are advertising in the social media. In addition to them, 18% more are planning to advertise in the next 12 months. This means that more than 70% of all established businesses will advertise in the social media by next year! If your work from home marketing efforts involved advertising in social networks, you should be prepared for paying more…
93% from all business advertisers, have a Facebook marketing campaign which demonstrate its force as the biggest social network. In Twitter, that just recently introduced new advertising platform, 78% from all advertisers are running campaigns. But more interesting are next in line: Youtube, LinkedIn and Foursquare.
Youtube with 61% today, predicted to add up more 20% in the next 12 months, LinkedIn marketing, with 44% today, estimated to go up 21% and the biggest advertising predicted growth comes from Foursquare (only 16% today) – 26%!
Here are the study full findings: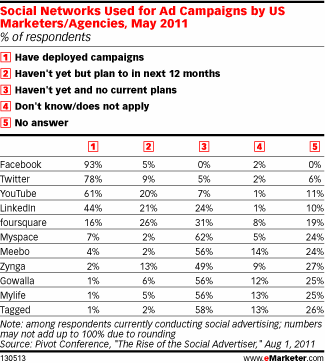 Social Networks Advertising Satisfaction
Although that in the customer satisfaction report the situation of Facebook was poor, The satisfaction from its advertising platform is a whole different story- Only 2% rated it as poor and close to 70% rated it as good-excellent.
Less than 50% rated Youtube, Twitter and LinkedIn as good-excellent, however most advertisers are pretty satisfied from their advertising platforms if we add "fair" to this equation.
Here are the full findings: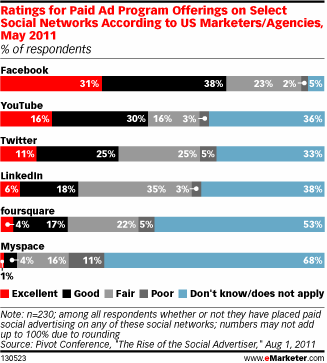 Conclusions:
The rates for advertising in social networks will most likely to go up during this year and the next one. Although that Foursquare has the biggest estimated advertising growth, I think that what's really more significant is the rise in marketing costs at LinkedIn and Youtube, which are much more relevant for home business owners. So if you fall behind in budget, maybe consider to increase your organic marketing efforts (SEO).