A recent study by Chitika was conducted to find the correlation between the web browsers of users and the search engine they mostly use. The results were pretty interesting: About 75% of Bing users are using Internet Explorer, while Google users are much more spreading on the different browsers…
Most Popular Browsers
According to the research, Internet Explorer shows an impressive domination on the browsers market with 52% market share. Second is Firefox with 20% and the third place is shared by Safari and Chrome. A research i conducted on my own results more or less similar results: IE is first with about 40%, second is Firefox with about 30% and third is Chrome with about 17%.
Here is a pie chart of the browsers research by Chitika: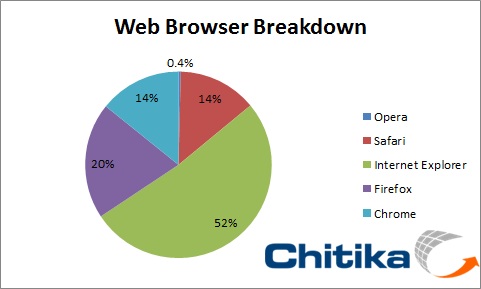 Bing Browsers Usage
As i was saying, about 75% of all Bing users are also using IE (of its different versions), where Firefox takes only 9% and Chrome about 8%. My research confirms and reinforce it- About 80% of Bing users comes from IE, 13% come from Firefox and only a little fraction (3%) comes from Chrome.
Here is a pie chart of Bing browsers usage: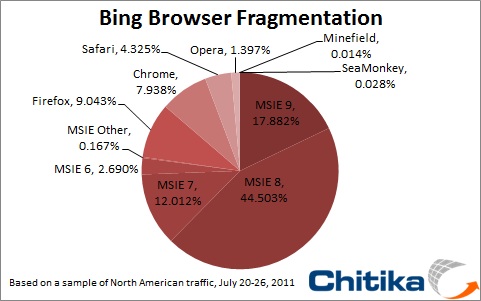 Google Browsers Usage
The study by Chitika shows a much more in spread browser usage- About 40% comes from IE while from Firefox, Chrome and Safari comes about 20% each. My research shows a different results- Firefox takes the lead with 37%, second is IE with 32% and Chrome is third with 16%.
Here is a pie chart of Google browsers usage: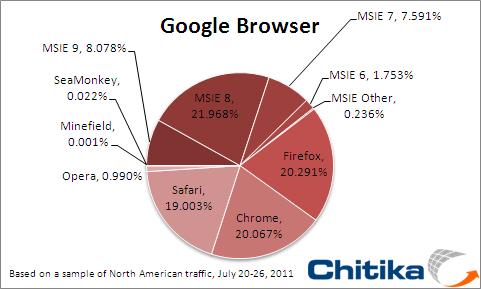 Conclusions From The Researches:
The default search engine in IE its Bing, where in Chrome, Firefox and Safari its Google. So we see a direct connection and high correlation between that and the users search habits. This explains the war between the different companies on the browsers market that decides much on which search engine they will use.
As for this moment, the domination of IE on the browsers market helps Bing to take a big chunk from Google. If Google will manage to break it, they will probably succeed to control even more on the search engines market.
I recommend you research it on your own (with Google Analytics) when you work from home and examine it by yourself!