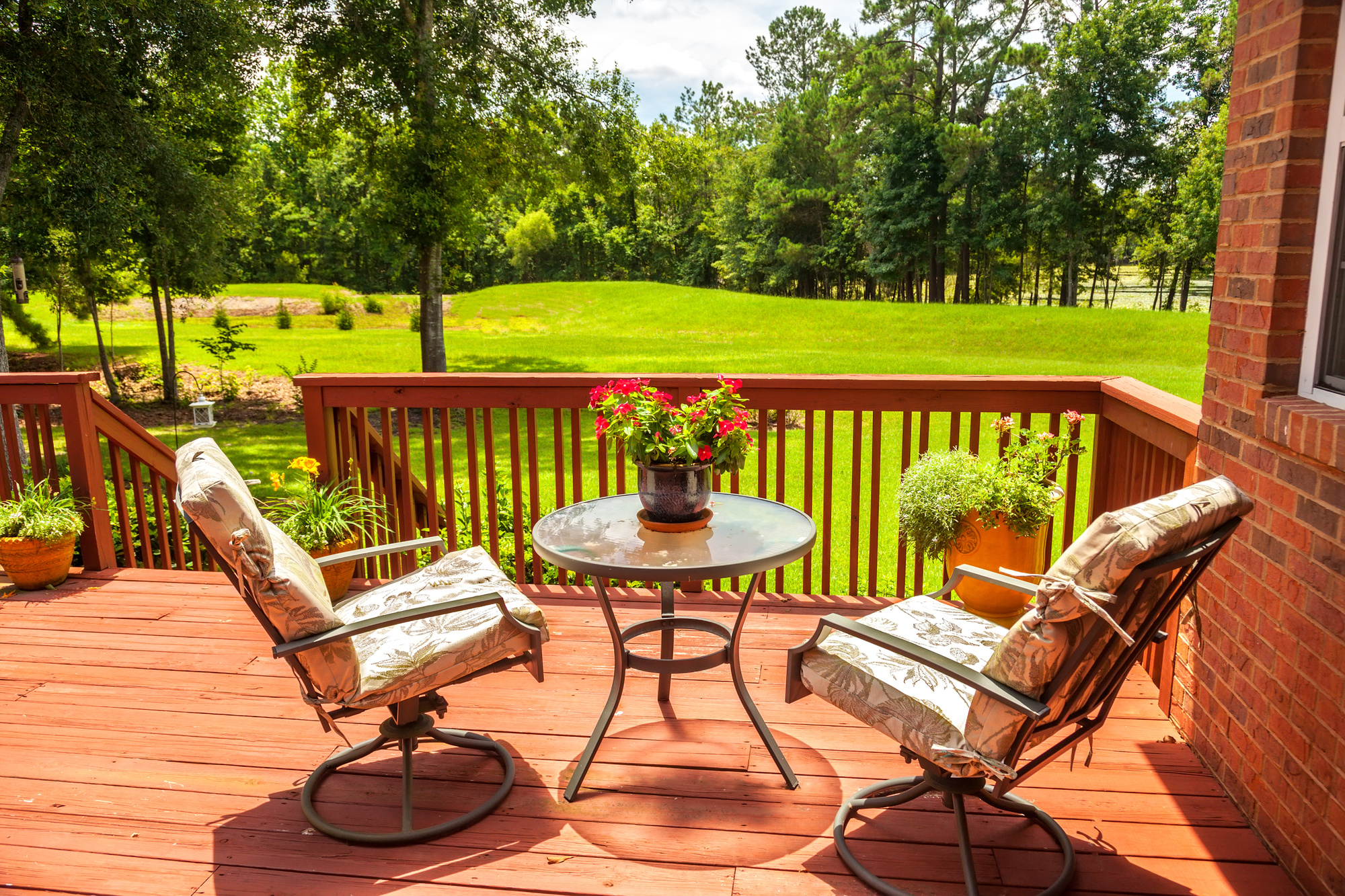 We love our decks in the spring and summer, but we loathe painting them once the snow has melted.
Decks are notorious for being one of the most difficult things to keep painted and looking fresh at your home. Not to mention they are also one of the most costly.
Homeowners around the globe experience the frustration of decks that peel year after year. That's why it is so important to choose the best deck paint for the job.
Yes, there are a lot of different options on the market and making the decision can be challenging. But have no fear-the guide to deck paint and staining is here.
We've done the research and compiled a guide on how to get the most bang for your deck paint buck. Amplify the beauty of your outdoor entertaining space with a beautiful color that will last for years to come.
Eliminate the need to repaint your deck every season. It's overwhelming and costly.
Here are a few paint options to consider for your deck this coming spring.
Alkyd or Acrylic Latex Primer
If your deck has taken a severe winter beating, then the best deck paint for you might be an acrylic latex primer.
Primers are great because they will fill in the pores and set you up for a potential topcoat. They have light pigment which is great too.
Oil-based primers are preferred among deck owners. However, high-quality acrylic options are a really popular choice and come in a variety of colors. Both options are great for your deck, but it's important to buy an option from either product that is quality.
It's also important to apply the paint to the proper thickness. The more efficient primers are a little more expensive, but you'll be glad you got them.
Many people want their primer to go as far as possible, so they apply the concoction too thinly. Apply it like a coat, and not a wash. This will set you up for overall deck painting success.
If you're working with redwood or cedar, definitely go with the alkyd primer. They have water-soluble tannins that won't bleed through topcoats when moist.
Knots can also bleed through topcoats, so double-prime the knotted areas.
Floor Paint Is the Best Deck Paint
Floor paint is used for just that-the floors of your deck. You'll need the best deck paint for your floors that are exposed to rain and sun. Deck floors always take a constant beating from the adverse weather.
Floors take the most traffic hits, so foot traffic slowly wears away at the finish of your beautiful deck. You'll need a proactive coating that will be low-maintenance all year round.
Floor paints are made of specially formulated exterior paint. This paint will make for a long life of durability. They have harder resins and can withstand abrasion better.
Some people call this paint "enamel paint" because it has a higher resin content and offers maximum adhesion. However, every few years you will still need to scrape, peel, and renew certain areas.
You can extend the life of your floor paint if you prime all sides of your deck floor wood before it's installed.
Sometimes the paints have a glossier texture and can be slick when wet. However, there are gritty additives that can give you and the guests entering your home some more traction. Apply the additives over highly trafficked areas.
Water Repellent or Semi-Transparent Oil Stains
Sometimes the best deck paints are actually just stains. You can maintain a beautiful appearance in your deck by using a water repellant option that has preservatives to keep your deck from splintering.
These options will help slow down the rot on any given portion of your deck. Apply this over your paint coat every year or two and you'll notice a huge difference in the spring.
The semi-transparent oil stain will give your deck the most attractive appearance and get it ready for spring and summer. Clear exterior finishes can preserve the natural color of your wood, but they might only last a year or two before it starts to peel.
100% Acrylic Latex Semigloss
One of the longest-lasting options when it comes to the best deck paint (especially for your railings) is an acrylic latex semi-gloss paint. This will offer you a more durable option than flat latex.
Acrylic latex semi-gloss paints have a higher resin content. This will give your deck a nicer sheen, which may or may not be important to you. Your brush strokes will also be smoother with this paint.
Full gloss options only highlight surface flaws and show poor brush strokes. The semi-gloss is the best option for highly visible areas because it hides flaws so well.
Paint Smarts
When painting, make sure you clean the surfaces thoroughly so no debris gets caught in the paint. Strip the existing finishes and completely remove the old paint before you start your fresh coat of the best deck paint.
A water-repellent preservative before priming will always help you eliminate mold and mildew. If you do stain, use something with preservatives already added.
Prime your surfaces and you'll get at least two years added to the paint life of your deck. With a good coat of paint or stain, you'll reduce moisture absorption and won't need to repaint your deck as often.
Doable Deck
Oil-based and acrylic paints are both great options for your deck.
The oil-based paints will dry slower, which makes outdoor application easier and will hide your mistakes. Acrylic paints have less harmful additives and clean up easier.
You might consider stains as well, as they're close to paints in terms of performance and how well they withstand foot traffic.
When you're ready for more home DIY tips, tricks, and advice, learn more here.