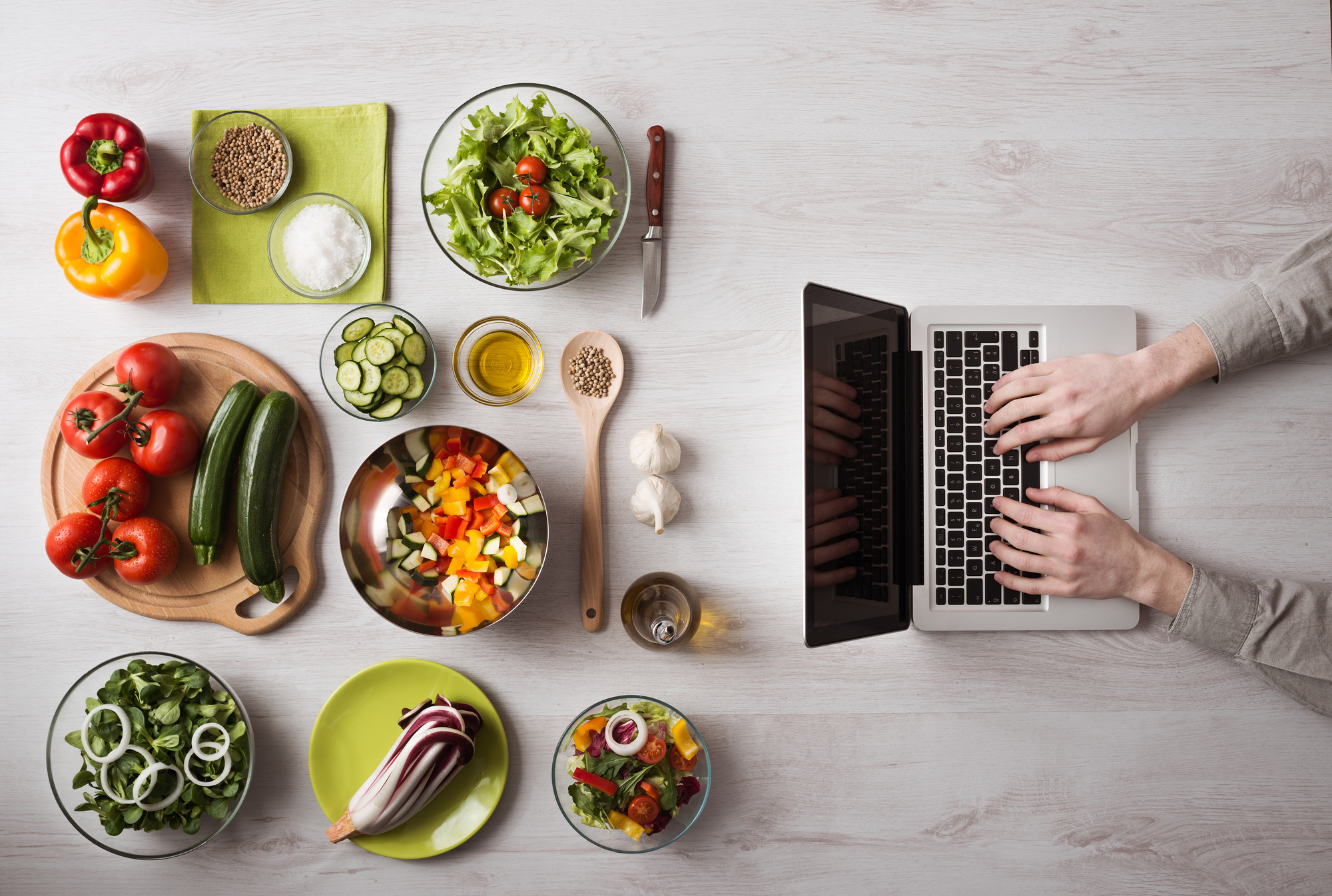 With so many food and nutrition blogs out there, it can seem silly to start your own to generate a side income.
But, if you know you can offer a unique and valuable angle that no one has thought of before, you'll find yourself swarmed with blog visitors.
The good news about having traffic is that it's easier to monetize your blog. You'll get more display ad revenue and sales opportunities.
If you want to learn how to monetize your nutrition blog, check out the top 10 ways below:
Display Ads
Display ads are how most nutrition blogs make money when they first start out. The most popular network across all blogs is Google AdSense, which pays either based on impressions or clicks.
If you have a high traffic volume, you have the potential to make more money through impression advertising.
Pay-per-click ads only bring you money when a visitor clicks on them. They can pay out anywhere from one cent to a few dollars depending on the ad.
There are plenty of other display ad networks you can work through. Chitika and Yellowhammer Media all have general audiences. Gourmet Ads and Souvrn are great for food or nutrition-specific blogs.
Build Your Email List
For many of your readers, email is their primary way of communication. In fact, 72 percent of U.S. adults prefer that businesses communicate with them via email.
To build your email list, you'll need to include a sign-up bar in a couple of locations on your blog. Later, you can prompt your readers to sign up through pop-ups or calls-to-action in your posts.
Your entire email list is bonded together by their passion for the topic your blog covers. It's essential to provide useful information and recommend relevant products in your emails.
Don't Overwhelm Your Reader
This is more a design principle, but it can help nutrition blogs earn more money.
Too many bloggers are guilty of overwhelming viewers with pop-up opt-in boxes, display ads, automatic music, and lots of pictures. It's sensory overload for your readers, and may create confusion.
If you have a particular action you want viewers to complete, like signing up for your email list, you have to minimize distractions. This means reducing the number of display ads, animations, and pop-ups.
Affiliate Programs
Affiliate programs provide bloggers with unique links to drop into their blog posts. Bloggers earn a commission if their visitors click on the link and purchase the product or service.
Amazon is often the go-to choice for bloggers. This easy-to-use program allows you to earn money every time someone buys a product through your site.
For nutrition blogs, there are many health and organic food companies that have affiliate programs. These include Thrive Market, Vitamin Shoppe, Vega, POW Superfoods, and The Fruit Company.
Sponsored Content
A sponsored post works like this: a brand will approach a blogger with a sizable audience and propose a collaboration. Most times, the brand wants the blogger to do a full review of the product and share his experience with the audience.
The idea is that the brand and blogger are getting access to new audiences. The blogger's post will be put in front of the brand's audience and the brand will be exposed to the blogger's audience.
Brands might also approach bloggers who have already used their product and ask them to do a review.
Sell an Ebook
Many bloggers find tons of success in developing and selling eBooks. Or, in the case of food and nutrition blogs, a recipe book.
Your pricing will depend on the quantity and type of information in each book. If you're a certified nutritionist, you'll be able to charge more for your dietary advice along with recipes.
Maybe you've already gone the ebook route and are looking for something more exciting. Try teaming up with another nutritionist or food blogger to develop a great ebook on nutrition.
Online Course
If you already provide valuable information on your blog, readers value your knowledge. Online courses can act as a natural extension of your blog and show your expertise.
One of the most common ways to set up an online course is to develop in-depth content and teach that material over the course of eight weeks. You can either release the material all at once or week by week through automated emails.
Nutrition blogs might provide courses on how to change your diet, how to manage IBS, or what to eat for weight loss.
Physical Products
Many nutritionists develop physical products to sell on their blog. They can range from apparel to specialty food to supplements like healthy hemp.
Selling products only through your blog means people will need to come to your site when they purchase. They will also browse your site and discover other offers.
You can also sell physical versions of e-content you've made like cookbooks or ebooks. You should weigh the cost to produce and ship all physical products based on how successful you think they'll be.
One-on-One Consulting
If you're a certified nutritionist, expand your services by providing one-on-one consulting over the phone or Skype.
To make your readers aware that you offer a consulting service, add a tab to your blog that outlines what your service entails. You can also direct readers to that tab through a call-to-action at the end of your blog posts.
You'll also need to decide if you're going to charge by the hour, or if you'll charge for a block of sessions for a flat fee.
Membership Fee
Membership sites are a viable business option for bloggers who have high levels of expertise. You can charge a flat fee for the year, or charge on a monthly basis.
The idea behind a membership fee is that you already offer great content on your blog, but entice viewers with the premium content behind your paywall. Newspaper websites and marketing websites do this all the time. The New York Times and Marketing Profs are two such examples.
Final Thoughts on Monetizing Nutrition Blogs
The mechanics of monetizing nutrition blogs, or any blogs, isn't challenging. What is challenging is creating an online community and providing high-quality content on a regular basis.
When you get enough web traffic, your content creation efforts will really pay off. You can combine many of these tactics to generate even more income.
So, what are you waiting for? Start monetizing your nutrition blog today!