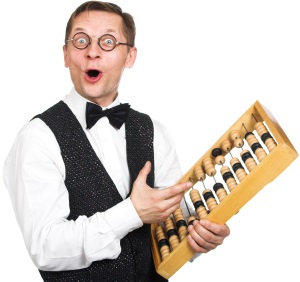 Every business needs to forecast for their future, to file their accounts, track their profit and loss, etc. the role of a bookkeeper is to organise financial records and ensure that the company's finances are properly balanced. Bookkeeping is key to maintaining and building a financially successful business.
A bookkeeper role will vary depending on the business they work for but they maybe expected to: look after petty cash, record transactions, chase late payments, produce invoices, complete payroll, keep track of incoming credits and outgoing debits. Bookkeepers will need to be proficient in the use of software such as Sage, Excel and QuickBooks.
Bookkeeper or Accountant
Bookkeeping and accounting are often confused as the same thing. Many people believe bookkeeper is just another name for an accountant, bookkeepers and accountants perform slightly different roles within an organisation. The bookkeeper usual performs a quite mechanical role, they don't analyse individual transactions or data. A bookkeeper will record the payments and receipts of a business, they will ensure that the correct amounts are paid out and received in and they will ensure that these transactions happen on time. A bookkeeper maybe asked or need to chase late payments from debtors.
An accountants role within an organisation is to analyse and interpret the financial data that the bookkeeper has collated they will then use this data to forecast the financial situation of the company and evaluate its efficiency. Accountants can also move into other areas such as management accounting, financial accounting, tax accounting and auditing. If a bookkeeper has collated this information for tax purposes it will need to be checked by an accountant, a small business may employ a full-time bookkeeper and hire an accountant once a year to complete their tax return or they may hire an accountant to take care of all their accounting requirements. The bookkeeping duties in a small business are often performed by an accountant.
A business owner may sometimes choose to perform the bookkeeping duties, this is not always a good idea. By having a full-time bookkeeper a company maybe able to avoid the need to hire an accountant to sort out specific issues or at least be able to reduce the accountants fee. If a business owner is performing bookkeeping duties a small business may want to hire a professional to free up their time. Business owners will often find their time is better spent making sales or taking care of other aspects of their business.
Qualifications a Bookkeeper Needs
As mentioned above an aspiring bookkeeper will need to be competent in the use of spreadsheets and specialist accounting software, there are professional bodies such as the ICB (Institute of Certified Bookkeepers) or the AAT (Association of Accounting Technicians). Professional bodies offer membership, accredited courses in bookkeeping and a directory of professionals. Bookkeeping courses are also available for the self employed and small business owner.
CPD Courses
CPD (Continuing Professional Development) courses can help bookkeepers and accountants to enhance their skills and career prospects. CPD qualifications are recognised by most professional bodies, including accountancy bodies.
This post was written and supplied on behalf of Souters Bookkeeping Training Courses.