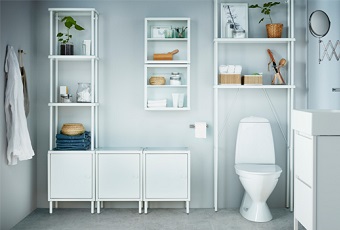 It most often happens that we run out of space in our bathroom and have nowhere to store makeup, razors, lotions, and countless other necessities like toothbrushes, soap, and Band-Aids. Instead of throwing your hands up in vain as you try to shove a bottle of concealer into an already overflowing cupboard, check out the following trending storage tips.
Wall cabinets
If you don't already have a medicine cabinet, this is certainly a necessity in any bathroom. Wall cabinets, however, are another great option – allowing you to take advantage of the rest of the wall space in your bathroom (hint: trade in any paintings you have on your walls for shelves and cabinets. Cabinets will add the same level of interest and depth to your bathroom).
Indeed, many people do not take advantage of their wall space – especially when it comes to bathrooms. The space above your toilet, however, is an excellent and very underutilized space. Consider adding a small wall cabinet there, or cubbies. Not only will you make use of the excellent vertical space in your bathroom, but these options also happen to be very attractive at the same time. Placing baskets on your wall cabinets' shelves can add additional storage solutions  – and also hide any clutter!
Shelves in unexpected places
There are plenty of unexpected places to hang shelves and open up additional storage solutions in your bathroom. A shelf above the bathroom door is one example – this tip is courtesy of Martha Stewart. Similarly, if you have any gaps between the floor and a vanity or other piece of furniture, this is yet another underutilized space that is very ideal for storage purposes. Another great space for a rack or shelf? The inside of any cabinet doors.
Magnetic makeup board
If you're a girls girl, makeup tends to take up a lot of space. A magnetic makeup board will give you ample storage for your brushes, glosses, and nail polish. All you need is a frame, sheet metal, a small piece of material, tacky spray, scissors, magnets, and a hot glue gun. It's an easy DIY project or you can purchase a magnetic kit at any hardware or hobby store.
Mounted racks
For smaller objects like bobby pins, dental floss, and Q-tips, try storing them in a spice rack. You can mount the rack on the wall to free up space in your cabinet. Paint it, shellac it, and jazz up the rack so it matches the colour scheme in your bathroom.
Sliding drawers
The area under the sink is a key spot in your bathroom. Most people overlook this space and use it to store toilet paper and towels. Instead, use sliding drawers to keep this area neat and easier for you to find what you're looking for.
Tiered system
A tiered bath storage system helps keep your most frequently used items within reach. Taller models can sit on the floor next to the toilet where you can store magazines, toilet paper, and air freshening sprays. On the other hand, smaller tiered organizers are great for under the sink if you decide against the sliding drawer option mentioned above. Take the tiered system one step further by adding an entire floor-length, open shelf unit to your bathroom between your toilet and sink, for example. This is another great option for utilizing all of the vertical space in your bathroom.
Hanging hair dryers
Products like Sure-Loc Hair Dryer Caddies will secure your hair dryer in place using industrial strength suction. They can hold up to 15 pounds and can be set up anywhere in your bathroom, freeing up space.
Towel stands
Some people install towel racks or hooks on the back of their bathroom doors. If that's not an option for you, make use of a towel stand. The SETTE Double Towel Stand is up to the task of keeping your towels in place. Bonus, it can work as a drying stand too. With adjustable arms, and a chrome finish, this towel stand complements any bathroom's décor
Toothbrush holder
Considering you use your toothbrush twice a day, every day, it's important to keep it within a reachable distance. Ideally, you want to keep toothbrushes as far away from the toilet as possible. The B.Smart Toothbrush Holder offers a solution because it can be wall-mounted with industrial strength tape, keeping your toothbrushes away from the toilet and out of harm's way.
By putting these storage tips to good use, you can save your bathroom from looking like a clutter, and with that, you save yourself from the hassle of having to reorganize everything. Better to get it right the first time.
Author Bio
Anne Flemings loves interior designing and is always in pursuit of the latest changes and trends in home improvement. Her other interests lies in cooking, painting and blogging. She is an enthusiast homemaker who lives in Toronto with her husband and two kids. She can be followed on twitter.