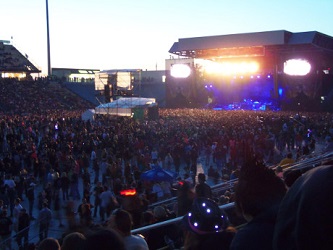 Twenty One Pilots is an American musical duo and the most popular band of 2016. At the 2016 American Music Awards, Twenty One Pilots collected two AMAs for Favorite Pop/Rock Artist and Favorite Alternative Artist. Tyler Joseph and Josh Dun were also awarded 2 MTV Europe Music Awards, an MTV Music Video Award, 2 iHeartRadio awards, 2 Billboard awards, an NRJ International Award and the Kerrang! Best Fanbase award. Twenty One Pilots tour dates can be found here.
When we attend a concert or show the focus is on the artists we have bought tickets to see but what about the people that make it all possible? On Bruce Springsteen's recent Wrecking Ball tour there was a team of more than 100 people that took care of the logistics. 22 mega truck-trailers were needed to move the stage, lights, video, sound, wardrobe, dressing room, instruments and band gear from country to country.
Planning
Managing a tour, moving expensive equipment and people all over the world from one venue to another requires a lot of planning and very strict timing. When Paul MaCartney goes on stage, it looks simple, just him and his guitar and a small band. However, Paul MaCartney has over 130 support staff when he is on tour. The Beetles icon even has specialist vegetarian caterers.
We would not be able to enjoy concerts or live entertainment without someone delivering stage sets, costumes, musical instruments and the huge video screens. The planning process is the same regardless of whether it is a one off performance or World Tour. When Twenty One Pilots are on tour for months, there's no room for delays, damage or errors in scheduling. Each move needs to be tailored to the performers needs and the laws of the country they are touring in.
International Logistics
The biggest logistics challenge is a World tour, equipment needs to cross international borders. A incorrectly completed customs for can delay band gear in transit. A specialist logistics consultancy with experience in this field can help with import, export and customs clearance. Specialists will also be able to advise on customs duties and documents.
Beyoncé's Formation tour of Europe needed 7 Boeing 747 cargo planes, newer narrow-body planes are often not suitable for band logistics. The newer aircraft have weight restrictions and smaller doors.
Trucks With Padded Walls
Musical instruments, tools and electronics are packed into custom-made steel cases and "work boxes" so they can be transported safely. These boxes are very heavy and the need to stay upright, they are rolled onto pallets and wrapped tightly so they are safe when in transit.
Special trucks are usually used, they have padded walls and nooks to protect the equipment. Moving equipment on these tours is extra challenging because stage sets and components are essential to the show. If one piece of a set goes missing or is damaged, the show will be compromised.
Moving The People
It is not unusual for a major act to have a support team of 100 or more people. The core staff will include riggers, carpenters, caterers, security, technicians, electricians and drivers. All the support staff have to be moved, they all need to be accommodated and fed.
Movers Not Shakers
Specialist logistics firms manage these large tours. Specialist companies include Rock-it Cargo, Sound Moves and X-Freighted. These firms provide a full range of services for band tours, their services often include sourcing, transportation, warehousing and inventory management. "Entertainment logistics is very organised and very controlled," says Jason Juenker, of NETworks Presentations.
One of the main concerns is to ensure the equipment arrives on time: the sound, staging, lighting, video, musical instruments and props. When U2 where on their epic world tour a few years ago, erecting and dismantling the 360° stage structure was complex and time-consuming there needed to be three identical versions of it. While the U2 were performing on one stage, another stage kit was being delivered to the next venue on their tour and the third stage was being collected from the previous venue.
The next time you go to see a band like Twenty One Pilots on tour consider the people you don't see, the people that move everything from venue to venue making sure no fans are disappointed.
This post was written and supplied on behalf of Go Supply Chain Limited, logistics and warehousing consultants.