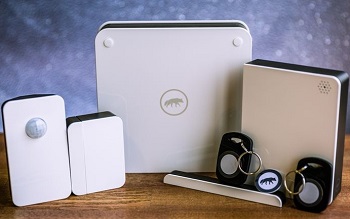 Technology has seen a lot of improvement over the years and this is why we now have so many home gadgets around us these days. One company, at the very least, seem to come up with a new gadget for the home almost every day. Technology companies usually think of a new way to make a simple household item become a smart device for your kitchen or living room, or they'll come up with an entirely new product that would make your coffee making quite easier.
The scope of home tech is quite wide but below is a list of awesome home gadgets you can equip your home with.
1.     Scout Home Security System
This home gadget is one of the best DIY security system on the market. It is one gadget that has a high potential for customization. With the Scout Home Security System, you can build up the ideal security needs for your home.
2.     Amazon Echo
Amazon Echo serves as the focal control point for all your smart home gadgets. You'll be able to control your home gadgets using the Amazon Echo, through its voice-activated smart speakers or with the help of its really cool virtual assistant, Alexa.
3.     BeOn Starter Pack
This is an essential home gadget and it's arguably the best smart security lighting on the market. BeOn's smart bulb will automatically turn themselves on at the sound of your alarm or doorbell or when your light goes out, and they can even save your usual lighting patterns and repeat them when you are not at home.
4.     Kuna Toucan Smart Camera
With the Kuna Toucan smart camera, you get two hours of free cloud storage and a camera with a low-key aesthetic, clever design that comes with some really cool extra features such as an alarm.
5.     Fisher-Price Rock 'n' Play Sleeper for Newborn with Smart Connect
This happens to be one of the best smart baby gadget for the home. The SmartConnect sleeper is a comfortable, soft cradle that allows new parents to calm their newborn. It is more effective than any other product on the market
6.     Nest Protect
Another essential home gadget, the Nest Protect (second generation) is a smart home detector. This model comes with more features and it is better looking compared to other carbon monoxide or smoke detectors. If you feel like upgrading the safety of your home, then you need to include the Nest Protect in your list of upgrades.
7.     Joule by Chefsteps
Joule is the perfect home gadget for anyone who is into sous-vide, which serves as an awesome alternative to grilling and other normal forms of cooking. This home gadget is so easy to use and can even be voice controlled by Alexa. So, if you are into sous-vide or looking to get into it, then the Joule is a gadget you need to own.
8.     Project Nursery
Want to monitor your baby while doing something else? Then this baby monitor system is what you should get. The Project Nursery is a video monitor system with a lot of features and creative designs. It even come with a mini monitor that enables you to monitor your child anywhere as you can put it on like a wrist watch.
9.     Skybell HD Wi-Fi Video Doorbell
You get free online storage where you save the video or pictures of those that uses your doorbell with this gadget. The SkyBell comes with great video quality and it can be integrated with Nest, IFTTT and Alexa.
10.       Drop Scale
Improve your baking skills today with the Drop Scale. This home gadget will walk you through the steps and process of baking, accurate measuring and provide you with different recipes. It can be connected to your iOS device via Bluetooth. Be a baking professional today with this awesome home gadget.
This article is written by Rebecca Fearn with useful information on the security gadgets from Locksmith Solutionz. Rebecca is a Yorkshire lass who loves amazing food and the great outdoors when she is not writing.