If you live in Great Britain and drive a car you probably realise that you are not stuck with the number plate it came with, should you wish you can change your car number plate to reflect your name, your cars make, model, etc.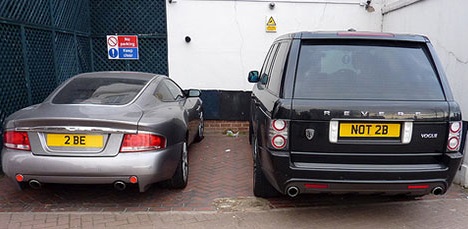 There are many companies that specialise in supplying private number plates. The Driver & Vehicle Licensing Agency (DVLA) started selling privatised plates in 1989 and holds regular auctions, in their last auction the DVLA sold 515 number plates. The most expensive plate at the recent auction was, 110 A and it sold for £31000. A full list of plates sold at previous DVLA auctions can be found here. The DVLA has raised more than £2 billion from the sale of private number plates since they started selling them in 1989.
I don't have anything against private number plates myself but I have often wondered why they manage to fetch such big money, for some people I think they could just be an ego trip or a means to stand out from the crowd, some people think they are a good way to show creativity but there are other reasons to put a private plate on your vehicle. I have looked into the pros and cons of private number plate ownership and I will be discussing them in this post, lets start with the cons.
They Will Make You a Target For Road Rage
I can only think of one con and it won't apply to everyone. Private number plates are popular because they have the ability to set their owners car apart from the crowd but, standing out from the crowd can sometimes be a drawback. A private plate can also make you or your car a target for violence, if someone feels you have wronged them in some way they may be able to identify your car from the plate and damage it or find out where you live. This point won't matter if you have the only pink Bentley in town. That's the con, lets look at the pros.
A Great Gift
If you are struggling with ideas of what to give a partner or loved one for their birthday or Valentines day a number plate could be the perfect gift, if you are buying as a gift you will just need to supply the registered name (Nominee name). The person you are buying for will be able to assign the registration to their vehicle or keep it on retention, if you want the plate assigned to the persons vehicle the registered name needs to be identical to what is on the vehicles V5C document.
A Good Investment
Private number plates can make really good investments. Each number plate is unique, plates cannot legally be replicated so they don't lose their value. It's not guaranteed that your plate will appreciate in value but if you are creative you maybe able to get yourself a really good investment. If you buy a registration mark for speculative purposes you can keep it on retention, you will get a certificate for this after your purchase.
Disguise Your Vehicles Age
A private number plate means others cannot identify how old your car is. If you currently own or have recently bought an older car that is in good condition you can put a private plate on it, the neighbours and potential girlfriends will have no idea how old it is.
Make Your Car Worth More
Even if you don't plan to sell your number plate with the car, having a private plate on the vehicle in its photos and when prospective buyers come to see it will add a sense of exclusivity and show that you have cared for it.
Keeping The Plate
If you don't want to sell your plate with your car you can transfer it to a retention certificate, the car will be re-registered so you can sell it and then you can transfer your number plate to the new vehicle. If you are buying your new car from a dealer, the dealer will be able transfer the plate to the new car for you. There is usually a charge for the dealer to do the transfer.
This post was written and supplied on behalf of Absolute Reg. Absolute Reg was founded in 2010 to provide British vehicle owners with the largest, most affordable selection of private number plates possible.