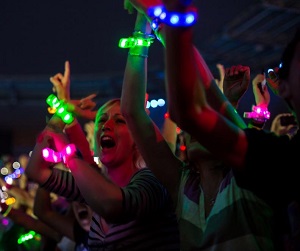 Technology has been advancing in the entertainment industry rapidly over the last few years. Concerts and events are now more exciting and interactive than they have ever been before. These new technologies are being used in many different venues to heighten the excitement of concert and event goers. LED technology has helped greatly in the advancement of stage lighting. There is a new technology that is now taking the lighting into the crowd.
Xyloband has created a technology and line of products that utilize the latest in smart LED technology. This technology has been used by NHL teams, large corporations, and bands like Coldplay.
The Main Products
Xylobands offer three main products. With their LED lanyards, wristbands, and light up balls, the applications for this technology are virtually limitless. The Coldplay tour was one of the largest uses of these products. With LED wristbands being supplied to the audience, the lead light tech could control these bands and take the light show into the crowd. This was a great way for the fans to feel like they were a part of the performance. There was a great reaction to this technology as audience members became extremely excited as they were asked to raise their bands into the sky.
Wearable technology is becoming an increasingly popular form of marketing. This is where the Xylo wristbands really come into play. These wristbands create an experience. When you are a company that is counting on your live events, creating an experience to remember is extremely important. With Xylobands, you can ensure that your event will be talked about and share over social media platforms. Along with being shared and talked about, you will be able to brand your company with certain colors and patterns. This heightened experience at live events can be very important to the overall success of a concert or corporate gathering.
The ability to control these bands is one of the most desirable parts of them as a marketing tool. With a single controller, all the bands at an event can display certain colors that represent a company, sports team, movie, or band. The company's logo can be directly printed onto these bands as well. This LED technology will really make your brand stand out as not only a marketing device but an experience. Investing in Xylobands is an investment in your brand that will continue to pay off long after your event is finished.
The LED inflatable ball technology used by Xylobands is a very popular option as well. With many different sizes to choose from, the LED technology offered by Xyloband can become even more interactive. Your LED marketing can now become a fun part of your event that can be played with by every at the event. Games of pitch black volleyball can be part of a corporate event. You can become very creative when you start using the technology provided by the Xylo balls. This balls will also create a very stunning visual effect over a large venue or stadium.
Xyloband continues to push the envelope in LED technology each year. As the leader in LED even technology, an investment in Xylobands will be an opportunity for your organization to step forward into the technological future. Xylobands will leave a lasting impression on your fans or customer base that they will remember far after your even is complete.
The Xylobands USA technology team come from 35 years of experience and are simply the best. From TLC Creative, their expertise will not only provide you with exceptional ideas for how to make your event stunning and memorable, but they will take the stress out, knowing that their experience, reliability and dedication will kick in to be sure everything goes off as you envision.