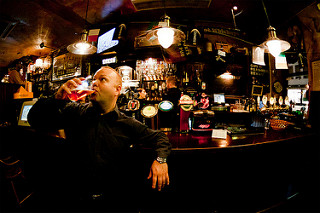 There's more to owning a home than just having a place to live. Your home is also your haven, a place where you can relax and enjoy yourself and your hobbies. This is why many new homeowners are spending a little more time thinking about the entertainment value they can build into their home. After all, what's the point of having a nice place if you can't have guests over to appreciate it as well.
Here's a look at some of the entertaining features that you should be considering when building a new home.
Bars
There's nothing like having a few drinks with friends, however you might not want to go out to the bar. Not only is it often overly crowded, noisy, and reeking of cigarette smoke, but you also have to deal with getting home safely. Fortunately, you can avoid that issue all together by building your own bar. This way you and your guests can enjoy a nice cocktail, or a frosty beer, all in the comfort of your own home. What's more is building a bar allows you a number of creative liberties, from deciding what type of bar top you want, to the decorations that surround your bar area. There's a lot to pick from which allows many homeowners to have some fun when coming up with their own designs.
Coffee Stations
Not a fan of drinking? Not to worry. Another trend that's really been picking up in newly built homes is coffee stations. Coffee stations are great for when you have guests over who like a little morning seclusion (some people can be a real bear till they get their first cup of morning joe). Coffee stations provide a wonderfully quick convenience all around your home and really help to bring out your individual sense of style. A must for the homeowner that can appreciate a fresh brewed cup of coffee.
Game Rooms
Game rooms speak to the kid in all of us. Building a game room in your new home gives you a great place to blow off some steam and relax. Pool tables, dart boards, poker tables, there's a number of different ways you can build up a game room that will keep your guests coming back for more. Consider built in storage shelves if you and your family enjoy playing board games. Snack bars also make a great addition for people who like to throw parties on a regular basis. Ultimately, the only limit to your game room is your imagination, so have fun with it!
The Ultimate Home Theatre
There's something to be said for going to the movies. Reclining in a comfortable seat, the complete immersion of surround sound, and the massive screen all help to turn watching a movie into an experience. Sadly, going to the movies can cost a small fortune, especially if you have a family in tow, so why not build your own theatre? This way you can enjoy the feeling of going to the movies all from the comfort of your own home. If you really want to complete the movie theater feel, you can put a popcorn maker in the back for fresh popcorn on demand!
If you're building a new home, consider the possibilities of what you can do, as well as your hobbies. By mixing the two together, you're sure to find something that will speak to both you and your guests for years to come.
Citations:
+Ken Uhrich likes houses. In fact he lives in one. You can drop him a line at the Custom Home Group website.