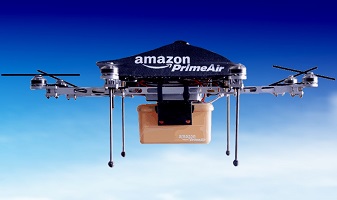 It was envisioned that hundreds or thousands of drones would take flight in the next few years. When that happens, we may bid farewell to traffic. But what comes along that is the possible danger not only to the life of the user, but also to the safety of other people, residences, commercial establishments and even national landmarks.
Meeting at NASA Convention
So how can we make personal and commercial drones safe for taking flight? A meeting of the big minds happened recently at a NASA convention in California to discuss this. As it was reported, Amazon is the first to raise its hand and provided the attendees with a very detailed proposal – to build a drone highway up in the air.
Going deeper to Amazon's plan regarding safer drone flights, two different paths for traffic were proposed – one expressway for long hours of travel and another lane for local or shorter trips. If this idea would be adopted, clear guidelines would soon come out regarding drone safety. More importantly, ideas would sprout to make this technology work better and safer for everyone.
Amazon's Proposal
Amazon has been looking into delivering products with the use of drones for easier, faster and a lot more innovative business approach. But before it would launch a fleet of air couriers, Amazon wants to make sure the safety of the package and of course, these pricey flying objects. The giant online shopping center also added in their proposal that the slower route would be occupying the air below 200 feet while the long-distance drones would fly along 200-400 feet above the ground.
The proposal at NASA conference focused on the intercommunication of the drones to avoid collision. Though there may not be any traffic cases while the Unmanned Aerial Vehicles (UAVs) are in the sky, it is still best to develop a great centralized air traffic control system. This would assist the drone on determining the locations and distance of other flying gadgets. According to the meeting, Amazon wants different hardware makers to consider safety while product development is ongoing.
Safety and Other Concerns
It was also suggested for the drones to have software and components that can detect approaching or nearby obstacles. Different dangers that everyone would want for the drones to identify on their own include:  sea gulls, poles, billboards and other aircrafts. Network controls may soon come a few months after the launch of Amazon's proposal to provide more logical assistance to the flying units.
Currently, consumer drone pilots are not allowed to hover within sight from airports and stadiums. National parks and other sites independently banned them as well. Though the proposals and the drone project itself sounds brilliant, a community new to such technology may feel threatened when it comes to safety and privacy.
These machines maybe used one day for unhindered transport of emergency kits including fast-acting medications or first aids to the remote parts of the world. But this can't be delivered until the technology makers were able to prove its safety for flight. This is something that tech giants are currently working on and is something that the world is excited for.
Jensen Carlyle is a writer and expert on new technologies and their application in the business world – he is currently writing for Maryland-based MSP, Swift Systems, Inc.