Practically speaking, mudrooms are one of the most underrated, if not useful rooms in the house, especially during the winter months when mud is common from the snow and sludge. Ideally, a mudroom becomes a place to take your shoes off, hang up your coat, and helps you to keep mud from being tracked throughout the house.
This is especially useful in houses with children as it gives them a place to hang their coats and put away their shoes so you're not tripping over them elsewhere in the house.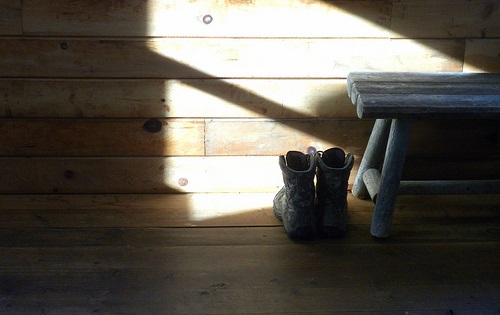 Photo Taken By: Lucy Orloski
The Problem of Clutter
The biggest issue with the mudroom is that it quickly can become overrun and prone to clutter. Piles of shoes, book bags, coats and jackets everywhere, it doesn't take long before your mudroom becomes so congested that it's almost impossible to wade through the mountain of outerwear. This is especially true when you're transitioning from fall to winter, between fall jackets, hoodies, winter coats. Keeping up with cleaning the mudroom seems to be one of the more daunting if not impossible tasks.
But the question is, what can you do about it? Mudrooms aren't overly large, so what, if anything, is to be done with the seemingly impossible amount of stuff that the kids and everyone else tends to accrue in the house.
Built in Storage Saves the Day
Built in storage is one of the simplest solutions to the storage issue for your mudroom, especially with small children. Open lockers provide a storage area for every member of your house. Adding a coat hook as well as a backpack hook helps to keep things off the floor and out of the way. Stacked cubby holes provide a decoratively cute, yet effective way to store shoes, that isn't a pile, right in front of the doorway.
Flip top benches are also a cleverly useful design for storage space. Not only does it give you a place to sit and take your boots off (which is incredibly helpful when you're trying to unlace a snow boot, but being able to store things in the bench helps you to make the most of the little space available. Having a designated storage space for each person in your house also helps to cut down on the amount of things in the mudroom to begin with. Otherwise you might find yourself with more coats and shoes than you know what to do with.
Embracing your mudroom gives you a chance to flex your creativity and take another step towards making your house a home. Consider specializing each space for your children. Tailoring each locker or cubby to your children's interest not only makes it more appealing for them, but might also help to encourage them to use it.
Personally designed storage spaces can also cut down on arguing about who's stuff is where, as anyone with children knows, happens all too frequently. So if cutting down on the clutter and chore time isn't enough incentive to build some storage spaces in your mudroom, just imagine a little extra time to enjoy the peace and quiet.
+Ken Uhrich likes houses. In fact he lives in one. You can drop him a line at the Custom Home Group website.