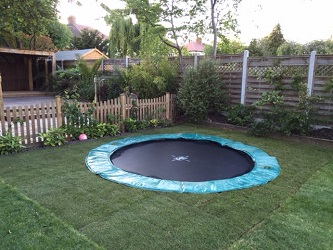 ​Your friend is over for coffee, there's four kids climbing over the furniture, pulling at the dog, squabbling over toys The noise level is increasing and you can't hold a conversation. The ideal is to get the kids out into the garden, sometimes trampolines are a legitimate safety concern with parents standing guard.
A brilliant alternative has developed, a sunken trampoline. This provides a wonderful way for children to use up energy and have fun safely while providing parents with far more peace of mind than a regular trampoline.
General Safety
With traditional garden trampolines young children are at risk of serious injury, broken bones, dislocated joints and head injuries are the most common injury caused. The biggest dangers when trampolining is the possibility of tumbling off it, a safety net been needed to contain the children, this still means you are stood next to it. By having a sunken trampoline in your garden this is elevated, you can keep some distance and stand back.
Falling from height is often one of the biggest concerns, because the trampolines are at ground level they are a lot safer to use, the soft landing of grass helps prevent injury. There is also no ladder to climb up, less exposed metal and plastic resulting in a much safer trampoline.
The trampoline is also more easily accessible even for small children, meaning they can join in the fun and play with their older siblings.
Additionally, there is no spring gaps or access to the area beneath the trampoline, children cant get their feet trapped in the springs causing injury. Kids and pets can't crawl underneath and risk getting bounced on from above, which can be quite serious. Again you and your friends can sit back while this kids bounce there time away in the fresh air.
More Useful Garden Space
No matter how much fun a trampoline is, for kids and even adults, it is an eyesore in your garden that granted is not that big a garden to begin with they take up a lot of room, a sunken trampoline that is in-ground takes up less room leaving more space to move around. A sunken trampoline is much more visually appealing in your garden and there are clever ways to hide it completely.
Ease of Use
There is no need to care for or move your sunken in-ground trampoline to care for the garden or remove accumulated debris and weeds, the wind is not a to it either.  Having a trampoline that is easy to maintain keeps your investment in good condition. A sunken in-ground trampoline is great outdoor fresh air fun for kids of all ages allowing more freedom and relaxation for parents and reducing risk for the kids.
Use In Schools
Sunken trampolines are becoming more and more common in the school environment, the added safety aspects makes them appealing to the schools, giving them a much safer solution for their students. These trampolines help the schools achieve a higher health and safety rating.
Andy works for SunkenTrampoline.com specialists in the supply and installation of ground level and in-ground trampolines. View the range of trampolines available on their website.