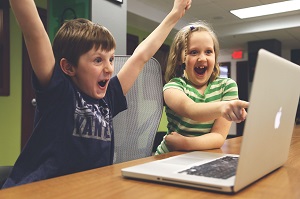 Work-at-home jobs are becoming more and more popular with mothers of young children. Why? Because they offer flexibility that most office or on-site jobs just don't. Work-at-home jobs appeal to mothers because they allow them to stay home with their children when they are young and not have the expense of day care.
One issue though, is just how to get work done with a toddler at home. When your child is a baby it is much easier because you can put them in a swing and they are relatively easy to entertain, but at they get older, it gets harder and harder to keep them occupied. You may just have to adjust your schedule a little.
It is possible though. I do it every day, so I am going to share some of my secrets with you.
Work in the same room or close to where your child is. This will prevent her from continually coming to your workspace or yelling from downstairs or the other side of the house. I know every one says not to do this, but it has made my life easier. This is only if you are working when your toddler is awake. Otherwise, you can work where ever.
Know how many hours you have to work in a week. Also know what projects you need to get done. This way you will know if you are coming up on a deadline or have to find a way to squeeze in a couple more hours. If you have to work 30 hours in a week, then know how to spread them out, or how to get the hours in early in the week.
Take advantage of nap time and bedtime. I wake up 1-2 hours before my daughter every morning to get some time in. I also work through naptime and for an hour or two after she goes to bed. This easily gets me 6 hours a day, meaning I can get my 30 hours in within 5 days. This give me more time to spend with my daughter and to get housework done.
Have "new" toys for when your little one gets bored of her toys. These can just be several toys you put away for a couple of days or a week, them bring out when her toys just are not doing the job any more. Quiet boxes work great for older kids as well.
Be flexible. This is the most important thing to keep in mind. Toddlers do not understand that you are working and they may have days where they want you attention all day long. There are also going to be times when she is sick, and during these times you will have to change your schedule.
It really is rewarding to be able to work at home with your child, but it is also a challenge. I hope these 5 tips help you work at home with your toddler.
How do you make it through a workweek with your toddler?
Cassie is a work-at-home wife and mom to one beautiful toddler. In her spare time she loves sharing her work-at-home knowledge with others on her blog.