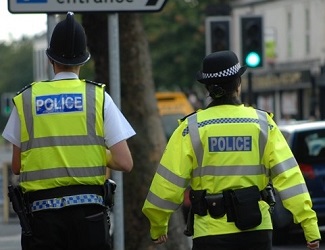 It used to be that the only fake police officer you would see would be Jeremy Beadle carrying out another "hilarious" prank on an unsuspecting member of the general public. Of course, Jeremy is no longer with us so this means that a fake police officer is likely to be carrying out a more sinister act.
You could argue that Beadle acted in an underhand manner but at least he wasn't committing an act of fraud or attempting to take money from people.
This is not the case in Derbyshire where people have been warned to be aware that there is a fake police officer making his way around the area, preying on the vulnerable and the elderly. The actual police force in the area has received a number of calls informing them of a man who claims to be a member of the West Midlands Police force. The calls have informed the police that the fake police officer informs people that money has been taken from the victim's bank account and he then asks them to withdraw funds from their account so it can then be "forensically examined".
In many ways, this doesn't really make sense and there is also the fact that it sounds like a storyline from the Simpsons. In an episode where Homer goes back to college (it was a long story), he befriends a bunch of intelligent students, or nerds as Homer calls them, but in his usually style and good grace, he gets his new friends kicked out of school.
Homer obviously worries how they will cope in the real world, and his fears were true when within seconds, the students meet someone claiming to be the wallet inspector. They immediately hand over their wallet and are left standing for hours when they realise that their wallets have been stolen. It just goes to show that if someone can make you believe that they are a police officer, there is a very strong chance that you are likely to do anything that they say, even though their request sounds utterly bizarre if you take the time to stop and think about it.
The fake police officer seemed to be busy
There were reports that in some instances, the fake police officer has turned up at people's home to take money and another incident saw the fake officer drive a person to the bank where they withdrew money and handed it over to the fraudster.
A spokesperson for the Derbyshire police force said; "We have noted that recent incidents have been primarily targeted at the elderly and vulnerable members of society. While they are not the only victims of the crime, we would like to urge everybody to pass on this message to their parents, grandparents and elderly neighbours. I would like to remind residents that the police would never contact you and ask you to withdraw cash under any circumstances. By spreading the message we can aim to stamp out fraud and protect more people from falling victim to the crime."
Hindsight is a wonderful thing at times
Being the victim of crime is no laughing matter and after the event, many victims will stop and think what they could have done to prevent themselves from becoming a victim in this manner. With the benefit of hindsight, there are plenty of frauds that will have been properly prevented but sadly when you are under pressure and being led to believe that there is a problem, people will respond in a way that they wouldn't do if they properly analysed what was taking place.
Preying on people's vulnerabilities is a key component of many fraudulent acts, and it is why so many people have very little time for people who carry out these acts. Taking advantage of people who are unable to fully look after themselves is a very low act, and there is a desire to have these criminals punished to the full extent of the law. It is important that justice is seen to be done, but it is also important that even people who have been accused of committing a crime of this nature are properly represented by an experienced solicitor.
Andrew Reilly is a freelance writer with a focus on news stories and consumer interest articles. He has been writing professionally for 9 years but has been writing for as long as he can care to remember. When Andrew isn't sat behind a laptop or researching a story, he will be found watching a gig or a game of football.