The correct signage displayed in prominent positions is a vital part of any construction site set up process. Indeed, many signs have to be present as a legal requirement and to conform to the Health and Safety at Work Regulations 1999.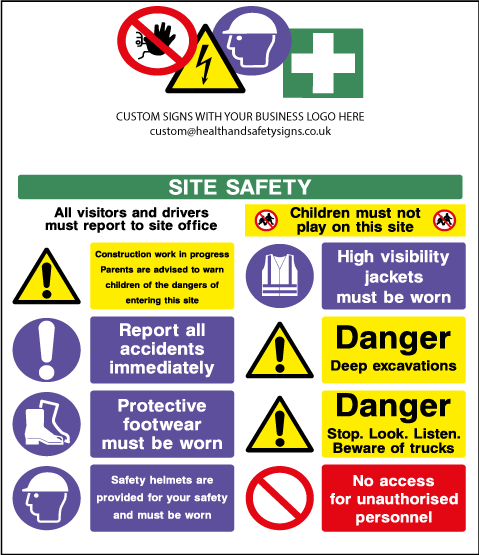 Determining what signage is required
The first step of planning a construction site layout is to conduct a risk assessment. As its name suggests, this determines what risks may be present either all the time or for part of the duration of the construction project. This in turn will help establish what signs will be needed. The signage has to be helpful and informative to employees and other construction personnel such as contractors, site visitors and the general public.
When the risk assessment has been undertaken, it will be apparent what signs are required, what types (such as fixed or free standing) and where they should be situated. A risk assessment may be conducted by experienced personnel either directly employed by the construction company or retained by them such as a Risk Assessment Surveyor. To make sure you get a competent and comprehensive survey, make sure they are affiliated with the Contractors for Health and Safety (CHAS).
It's also possible to enlist the help of personnel from the Health and Safety Executive to advise on how to manage and warn of likely dangerous and hazardous situations. There are various documents and other information available on the Health and Safety Executive website. Another good place to go is this resource which provides several check lists and documents for download.
What types of sign are required?
They fall into certain categories depending on what they are warning of, and are usually grouped in certain colours and styles.
Prohibition – often circular with a red border and crossbar on a white background with a black graphic sometimes with a panel below with a specific written warning. These signs usually tell the reader to 'stop,' or 'do not'. For example, 'no access beyond this point' is a common sign of this type.
Warning signs – these are triangular and coloured black on a yellow background with a written warning below in black letters on yellow. These signs are telling the reader to 'be careful' and 'be aware'. An example of this type is a thunderbolt symbol with 'Danger: high voltage' in the panel below.
Fire equipment – usually white graphics on a red background with a simple 'fire' symbol. These mark the location of firefighting equipment such as a fire extinguisher, a fire blanket, fire bucket or hose. These signs inform the reader 'here is where the fire equipment is located and what it is'. For example, a sign showing the location of a water fire extinguisher will show a graphic of one with the word 'water' below, a powder one will have 'dry powder' below the graphic and so on.
Mandatory signs – usually white on a pale to mid blue background with a graphic and supporting information – usually an instruction. These tell the reader what to do as in 'you must obey this instruction'. For example, a graphic of a head with a hard hat and 'hard hats must be worn at all times' is a common example of this type of sign.
Safe condition signs – usually oblong or square in shape and coloured white on a green background. These inform the reader to 'follow the sign to reach safety'. An example of this is a running man graphic with 'fire exit' to the side.
Other signs – your risk assessment survey should pick this up, but don't forget about warnings outside the site. For example, signage warning of possible dangers and men working overhead for the benefit of passersby might be required.
CCTV use – signs highlighting CCTV usage are often required not just as a deterrent against theft and break ins but to inform people they are under surveillance.
Durability and choosing wisely
Signs need to be up to the tasks of being legible and clear for possibly long periods while the construction project is running. They're likely to be on display outdoors in all weathers, so good quality signage from a reputable supplier is very important. A good sign specialist will have the right signs for your needs, and to the correct specifications in terms of size, colour rendition and luminosity. Armed with the signage requirements from your risk assessment, seek out a supplier who can easily provide all you require.
Jill Henderson is a representative for Health and Safety Signs who specialise in supplying health and safety signs for businesses.