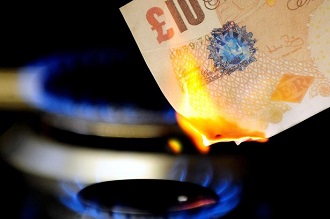 If you're one of the 60% of households that hasn't switched gas and electricity supplier in the past few years, you're probably overpaying by at least £234 a year. An official government inquiry into whether we're getting a fair deal from the Big Six energy companies published its preliminary findings and found that consumers need to take action to get a fair deal.
The Competition and Markets Authority (CMA) found that 40% of British Gas domestic gas customers have been with the company for over 10 years, despite it being one of the most expensive. Overall, 40-50% of all electricity customers are still with their original supplier.
An estimated 10m households are on a standard tariff, which is usually the most expensive rate regardless of the supplier. The CMA said that 95% of people who switch tariff will save money – up to £240 for those who get their gas and electricity from the same energy company. Meanwhile, customers in large houses who have never switched could save £450 a year by switching.
Switching energy companies takes less than ten minutes but many homeowners are reluctant to switch because they think the process is complicated or they are not entitled to switch.
Myth 1: You could lose your supply during the switch and end up paying two bills
In rare cases, switching problems do occur but you will never lose your gas and electricity supply. All homes are supplied by the same pipes and cables, so the only thing that will change is the name at the top of your bills.
To make sure you don't end up paying two bills, cancel old Direct Debits and make sure you read your meters correctly. Most problems are caused by customers misreading their gas and electricity meters. Find out how to read your gas meter and how to read your electricity meter.
Myth 2: I rent a property so it's not up to me to switch
Wrong. If your name is on the gas or electricity bill you're perfectly entitled to switch to a better deal. Just check the details of your lease to make sure.
If you pay your landlord for gas and electricity, you should ask him/her which supplier they're with and what tariff they're on. If it's not the cheapest rate (which it probably won't be) ask them to switch.
Myth 3: I have a prepayment meter or Economy 7, so switching doesn't apply to me
By moving to a standard credit meter, you'll get lower prices and more suppliers to choose from. Some gas and electricity suppliers will install a credit meter for free, providing you pass a credit check.
If you can't come off of a prepayment meter you can still switch supplier as long as your meter is not in debt by more than £500.
Myth 4: The service will be bad
When you compare gas and electricity prices, you'll be offered a list of online tariffs and some of these may be with suppliers you've never heard of. But don't think you have to stick with what you know.
Customer service levels do vary but the reality is that you shouldn't have to contact your supplier if you pay by Direct Debit and submit regular meter readings.
Myth 5: switching takes a long time
The time it takes to switch energy supplier has been slashed from five weeks to two and a half weeks (including a two week cooling-off period). Independent energy supplier First Utility's successful Fix the Switch campaign called on the industry to work together to make switching gas and electricity supplier faster, with the next aim being 24-hour switching.
Find out how to switch energy companies or call the Energy Saving Advice Service on 0300 123 1234 for personal advice on whether switching is right for you.
Colin Urquart is a political commentator and energy blogger. He works with various agencies to support change in the energy sector.