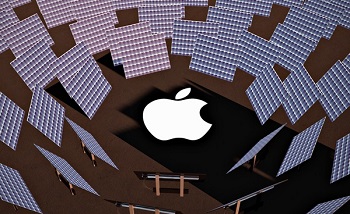 Technology giant Apple will spend nearly £500million on a solar energy project that will produce enough energy for 60,000 homes. The project will power Apple's new corporate headquarters in California as well as its 52 California shops and a data centre.
The colossal project will take up 2900 acres in a rural section to the south of the San Francisco Bay Area, where Apple is based. It will be a grand addition to the company's green efforts, with its iCloud and iTunes centres already being powered by forms of renewable energy.
Speaking of the California Flats Solar Project, Apple CEO Tim Cook said "We know in Apple that climate change is real. The time for talk has passed, the time for action is now."
Construction of the project will begin in the middle of this year and is expected to last until the end of next year. Once the solar centre is up and running, excess energy will go to Pacific gas and Electric – the leading energy company for California.
'Apple still has work to do to reduce its environmental footprint,' said Greenpeace in response to the news 'but other Fortune 500 CEOs would be well served to make a study of Tim Cook.'
Solar savings
Apple's new solar farm is being built in a bid to reduce its energy bills, with Cook saying in a statement "We expect to have a very significant savings because we have a fixed price for the renewable energy, and there's quite a difference between that price and the price of brown energy."
It's not the first time Apple has dabbled with solar power. In 2013, the tech company announced that it was building a solar farm to power its data centre in Nevada. Apple promised that each of its data centres will use 100% renewable energy.
Last month, Apple revealed it would spend a further £1.3 billion converting a glass factory into a data centre that will run exclusively on renewable power. The company is also reportedly looking at making an upcoming smartwatch powered purely by solar or kinetic power.

The rise and rise of solar power
Apple's juncture into the solar market is the icing on the cake of a solar trend sweeping the globe. According to recent reports, solar power is set to be the world's largest energy source by 2050. The International Energy Agency predicted that both solar voltaic and thermal solar power will take over fossil fuels, wind and hydro power as the world's top renewable resource.
Here in the UK, the country's largest solar farm was recently connected to the national grid in Oxfordshire and Scotland's solar capacity has risen by nearly one third over the last year. A new study also suggests that covering 61% of south-facing commercial roofs with solar PV panels could harness enough energy to power UK businesses up and down the country. The strategy could save larger businesses over £30,000 a year on their energy bills.
Matt Hancock, the minister of state for energy, also encouraged SMEs to use feed-in tariffs to support renewable projects during an Energy and Climate Change Committee last month.
Sam Travers is an eco warrior of sorts. He works for a green charity and regularly blogs about the state of the energy sector as well as ways to make the world a better place.