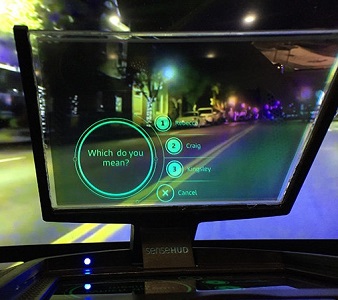 If you're running a business, it's always good to keep on top of what's hot in the tech world. There's more to business technology than laptops, with a growing number of gadgets out there that are designed to make running a business more efficient. So what are the best picks for 2015?
Well, we've picked five gadgets that are not only going to help you run your business but are highly innovative too. So what's first?
SMART kapp
SMART kapp is a new gadget that makes presentations so much easier to utilise. When you write on the board, it immediately digitalises these notes, saving you lots of time on typing them up or photocopying them. This immediate capture and digitalisation also makes for smoother running meetings too, as any notes can be sent to participants as the meeting happens, so it's perfect for companies with many different offices or employees who work from home.
Rugged RAID
The Rugged RAID is a new kind of portable hard drive. Not only does it boost your computer's speed and capacity, it can also duplicate your data across its two drives. That means in the unlikely event that one drive fails, your files are completely fine. With a powerful Thunderbolt cable included, it seems impossible that this all fits in to such a neat little package!
Livescribe 3 Smartpen
The Livescribe 3 Smartpen is a godsend for those business people who are always on the go. If you're always making notes and then losing them, this is the gadget for you. It turns your iOS or Android devices into notebooks, recording audio and written notes through the Livescribe+ app, allowing you to jot down phone numbers, dates and record anything that inspires you.
Sense Hud
If you're often on the road because of your job, then Sense Hud could be the perfect gadget for you. It's what is known as a head-up display, a transparent display that is positioned to keep your eyes on the road. Its unique design is similar to the kind of displays in the cockpit of a plane, where pilots are required to take in a lot of information but need to keep their concentration levels operating at maximum. Using Sense Hud, you can keep on top of emails and other notifications while staying safe on the road.
Voiceboard
Voiceboard is the final gadget on our list. If your role in the workplace involves giving lots of presentations, then you're probably used to constantly reaching for the mouse of the keyboard to move onto your next slide. This isn't great for delivering seamless presentations, which is where Voiceboard comes in. It's the first voice and gesture controlled presentation app, meaning that you can work your slide transitions into your script, leading to presentations that flow naturally and effectively.
So there you have it – the five most exciting business gadgets of 2015! While some are already available, some are still awaiting funding before they can go ahead to the manufacturing stage. So keep your eyes peeled for these names – they're the next big names in innovative technology!
Damian Coates is the Commercial Accounts Manager for one of London's most popular IT support companies – Utilize IT Support.