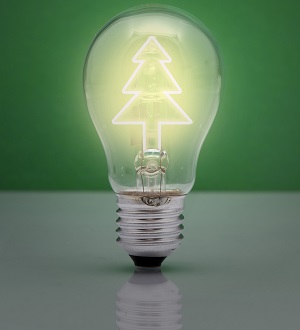 A season dedicated to gorging and splurging, Christmas sees many of us pinching the pennies in the New Year. Verdict retail forecasts that shoppers will spend £2.3bn more on Christmas this year than in 2013 – including spending £37.1bn on food. But far less is said about the energy cost of Christmas.
What do all those lights, turkeys and decorations mean for the planet and our energy bills?
Lights
GoCompare calculated that a display of 100 five-watt bulbs switched on for six hours a day (or night) will consume 207 Kwh over the Christmas period – that's the equivalent of 22.8 days of the average British household's electricity consumption.
Replace your old fairy lights with LED string lights, which are brighter, safer and 70% more efficient than traditional fairy lights. At the same time, invest in a timer which will automatically turn on and shut off your display so you don't have to worry about forgetting.
Rather than skimping too much on the lighting and heating, you can also save money on your energy bills without too much effort by switching gas and electricity supplier in time for winter. Compare gas and electric tariffs online and see if you could get a cheaper deal from an independent energy supplier – or a green energy provider for bonus carbon reduction points!
Cards and paper
According to figures from the National Energy Foundation, we in the UK send around 750 million Christmas cards and wrap our gifts in 8000 tonnes of Christmas paper. This uses energy at every step of the way – from manufacture in factories to delivery to shops to eventual disposal.
Send out e-cards and consider using pretty magazine pages to wrap your gifts or invest in fabric wrapping paper which can be used again and again. Where you can, reuse the Christmas paper from your own gifts and recycle discarded paper and cards, or turn your old cards into gift tags for next year.
Christmas dinner
Academics at Manchester University calculated the carbon footprint of a standard Christmas dinner made up of roast turkey, stuffing, roast potatoes, cranberry sauce and basic trimmings. They concluded that a Christmas dinner for eight people generates 20kg of carbon emissions – that's the equivalent of 300 return car trips to the moon!
Surprisingly, the humble cranberry is responsible for over half of the carbon emissions generated when making Christmas dinner – and it's one of the few ingredients that isn't cooked! Try your hand at making your own or look for an alternative.
You can also cut your carbon footprint by buying local produce. Pay attention to food labels to see whether groceries are farmed in the UK and see if you can swap out imported goods for more local variants.
When the first round of your Christmas dinner is done and dusted, reuse any leftover food. You don't just have to have turkey sandwiches – think curries, stir fries and pasta dishes, pies and salads. As for your veg, make hearty root vegetable soup and use sprouts and potatoes to make bubble and squeak.
Ronald Hurk works for a well known energy provider and enjoys blogging in his spare time. He often provides insights and advice for consumers looking for savings.