Choosing the best hardwood solution for your home is crucial to achieve the right look and feel for your room.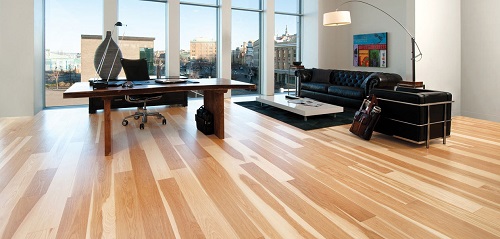 But it's not just aesthetics you need to think about. You will also need to take into consideration your lifestyle, especially if you've got young children, pets or enjoy entertaining, to find the right hardwood flooring for your home.
Jenka scale
One of the aspects you will need to think about is the hardness of your wood floor. This is measured on the Jenka scale. Very soft flooring, such as cork, scores low on the list, around 200. On the other end of the scale, oak, scores much higher at 1360. The higher the score, the harder the wood.
But why would you want a hard floor? Well, a harder wood floor is more resilient to pets, parties and children, as is less likely to dent or scratch.
So which wood is best for you?
Let's look at the top five timber options for your hardwood floor.
Oak
Specifically, red oak. This is a common timber used around the world for flooring. Despite its name, red oak timber doesn't have to mean a red oak floor.
Red oak comes in a choice of colours, from light cream, perfect for an airy bedroom, to a deep, warm caramel – more suited to a living room. The wood is robust and can sustain cold winters and hot summers.
If the area you are covering in hardwood is considered 'high traffic', oak is the best choice for you. It's a tough wood and resilient to dents caused by high heels or furniture being moved.
The grain is one of the most distinguishing features of oak wood flooring. Consistent grain commands a much higher premium, so bear this in mind if price is important to you.
It is one of the most straightforward wood types to install and can be stained quickly and easily too.
Walnut
Walnut has a rich, dark colour – ideal for living rooms, kitchen areas and bedrooms. It's a versatile wood and looks equally well-suited in both traditional and contemporary homes.
Walnut is a hardy flooring choice and is resilient to water, so would be a good option for bathrooms as well.
Darker woods will make scratches and dents appear more obvious in your flooring, so if your home is a busy one, or if you have children or pets, you might want to think twice before purchasing a walnut floor.
Ash
Ash is a solid and strong hardwood, making it perfect for hallways or living rooms.
It is more expensive than oak, which does put some buyers off. However, the consistent grain pattern and flexibility with staining options (ash wood holds staining very well), still makes ash a serious contender when it comes to choosing your flooring.
Without staining, ash is a very light colour, making it more suitable for less hectic homes where there is minimal traffic and the wood is less likely to be damaged.
Pine
Unlike oak, ash or walnut, pine is a much softer flooring option. It's an inconsistent wood, and contains knots, which are difficult to keep clean.
As pine is so soft, it is more likely to suffer from scratches and dents throughout its life. It's probably best to choose another wood if you're looking to lay flooring in a high traffic area or if you have children.
Much like oak, pine is an excellent wood to stain and is often stained with a deep brown colour and used in stately homes to maintain a regal feel.
Maple
The wood grain on maple is understated, which makes it popular for homes who are looking for a clean finish, although not necessarily rustic. Hard maple flooring (not to be confused with regular maple flooring) has been used for the flooring for basketball courts, so can withstand some serious pounding!
Maple has a fairly consistent colouring and graining, which will command a higher price. Maple which features knots and mineral staining will be much cheaper than clearer timber.
Maple is a durable, hard wood, which unfortunately, doesn't hold staining very well and can yellow over time.
Whatever type of flooring you choose for your home, be sure to ask for samples. You can get a good idea of how a certain colour or grain will look in your room with a sample of around two foot square.
Solid wood flooring makes a house much more homely and hygienic. However, choosing a solid wood floor for your home can be a costly experience. You should remember you are investing in your home and by adding a wood floor; you are likely to be adding value to it as well.
Don't let a short-term concern about the cost prevent you from enjoying the long-term benefits of a hardwood floor.
Stephen MacVicar is the Director of solid ad engineered wood flooring supplier – Mojo Flooring.