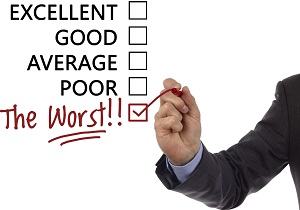 It's no secret that energy companies are some of the worst providers of customer service. Despite various controversies in recent years over unfair pricing and uncompetitive behaviour by the 'Big Six,' these firms are difficult to regulate due to their domination of over 90% of the domestic energy market in the UK.
However as the campaign to fight back against the big energy companies gathers pace, it seems that customers can make a difference by refusing to put up with poor service.
What is the Problem?
Customer service is an essential aspect of any company, and can significantly affect the public opinion of a brand. Bad treatment of customers, either through frustrating automated telephone systems or rude and incompetent staff, is something that energy suppliers seem to have in common. Npower was recently being listed as the worst customer service in the UK by Which?, followed closely by Scottish Power and SSE. Meanwhile, EDF Energy, British Gas and E.On failed to make it above 81st place in the rankings of 100 big brands.
Of course, this sentiment is nothing new, and customers with any of these brands are likely to have experienced these problems first hand. The Energy Shambles Watch recently revealed that the Big Six are 'wrongly rejecting almost 1000 complaints a week', and 37,061 people sought help from the ombudsman between January and September. So why exactly is it that energy firms take such a negligent stance to their customers? And what can you do to fight it?
Fighting For Change
Campaigns and studies such as Energy Shambles Watch and Which? findings are a positive start for bringing these offences to light and fighting for change. Refusing to simply swallow bad experiences can add momentum to this resistance, as being willing to rate customer service via an online directory everycontactnumber.com, social media posts or even letters to the press, can put pressure on the big firms.
However as the big energy suppliers dominate such a large portion of the market, change is much harder to set in motion, which is why The Telegraph is campaigning for another alternative. As customers are unable to receive a better service by switching between the Big Six, voting with your feet and supporting smaller providers might be the answer. In fact, 600,000 people made a move to firms such as Ecotricity in just six months this year. As more and more people refuse to put up with the same old treatment, could this be an opportunity to make firms sit up and listen?
Receiving unsatisfactory customer service is frustrating in any situation, whether you are dealing with a sales assistant in a shop or telephone support about your bills. You as an individual might feel helpless to change the situation, especially when there are few well-known alternatives for better providers. However as a whole the public can exert huge pressure on the Big Six, by being willing to speak up and promote change.
Article by Kelly Gilmour-Grassam, a copywriter from Yorkshire, you likes fine food and interesting places – Follow her on Twitter @KellyGGrassam.