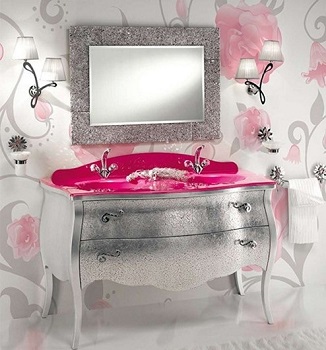 Relaxing, beautiful and modern women's bathrooms are a true example of comfort combined with delicate beauty. Many styles of feminine bathrooms exist, but all have a few key things.
These bathrooms move from modern to vintage style, but can also look very luxurious. Bathrooms with a feminine touch can be easily created. You can even transform your existing bathroom by simply adding the right accents and decor.
Feminine bathrooms have a glamorous style, and luxury is an essential part of these projects. They allow you to have many colors, a lot of decor and fresh flowers, to shape your bathroom in the right way in Spa style.
Whenever we talk about these types of bathrooms, one of the first things that come to mind is an elegant use of colors. Pink is obviously the natural and popular choice in any women's room, so a modern bathroom is no exception. But, you don't have to exclusively use pink for getting a glam-feminine bathroom. Purple and it's shades are also an excellent choice and they have the tendency to bring more sophistication in the bathroom. Another great color is gold. With metal decor you get an instant luxury ambiance in your bathroom.
Bathroom and lighting
A great combination with a feminine bathroom is soft and nice light. It can be rather hard to achieve with natural light, although blinds can be used to regulate it. A better choice would be soft natural light. Those special lamps can be bought in all specialized lamp stores. Strong light is not really recommended, but if you like it, go for it. Otherwise, a much better effect will be left with soft light, not so much dim, but gentle, fuzzy light.
Spa style
A feminine bathroom is really an excellent choice for the Spa style. It's soft visual appearance and a calm feeling, the general mood in fact will allow you to completely melt your worries away. Instead of bright colors, you can choose a modern scheme of colors for stylish bathrooms. Gray, white, cream and brown are ideal for calming effects. Still, you can keep the feminine vibe with warm wooden surfaces, white carpets, light curtains, flowers and scented candles.
One of the bigger advantages of using neutral colors is the way you can easily transform your bathroom in any other style later. Introduce some print or chic background with flower motives that give softness to the space.
Other styles
Classic, vintage, retro or Hollywood – styles that don't care about time, perfectly coordinate with women's bathrooms. By using shiny mirror surfaces, different textures and lavish lighting you will create a great retro style in your bathroom. Chandeliers or lamps are always the center point of the bathroom, and a painted bathtub gives special charm.
Golden furniture, drapes and carpets, wooden floors and metallic decor, can also introduce an eclectic and Shabby Chic theme. No matter what style you choose, have in mind to bring in the beauty in the bathroom, alongside peace and sensitivity – and that is the trademark of every womanly interior.
Milan Budimkic is a creative freelance writer for industries that include but are not limited to the travel, sport, entertainment, internet marketing, and much more. When not blogging, Milan likes to travel and read a lot.