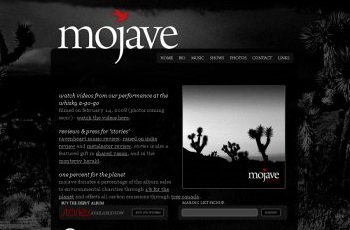 Dark website designs, which use black, grey, purple, crimson, navy, or similar colors predominantly, have become popular due to their sleekness, aesthetic appeal, and break from the norm.
However, creating a dark website presents more challenges than the safer alternative of a light website, and when poorly designed, a dark site can easily drive viewers away. To pull off a beautiful dark design, incorporate the following three elements.
1. Sophistication
Not all websites can pull off a dark theme. Whether you're selling a product, offering a service, or publishing content about a certain subject matter, consider your brand before deciding on a design.
If words like "lighthearted," "funny," "family-oriented," or "eco-friendly" describe your brand, a dark website could counteract the image you want to convey. On the other hand, if you would describe your label as either "sophisticated," "classy," and "traditional" or "creative," "cutting-edge," and "high-tech," a dark website can boost your image.
If you're having trouble defining your brand, consider the product or service you sell. Fine wines and spirits, luxury items, high-end clothing, wedding photography, and new gadgets are items that typically use dark or black-and-white palettes in their packaging, so a dark-colored website that advertises these kinds of items would feel less like a dungeon and more like a five-star restaurant.
2. Contrast
A beautiful design does nothing if no one can read it. Readability is one of the most important features of a website, and white text on a black background is notoriously difficult to read. On the other hand, dark text like red or blue on a black background does not provide enough contrast for legibility.
While it may seem counter-intuitive, a good design should have some contrast but not too much. Few websites use true black (#000000), instead preferring a dark grey, off-black, or a dark, saturated shade of a non-neutral. Likewise, off-white text can be easier to read than pure white. Experiment with shades and hues to find a contrast that's easy on the eyes.
The palette and images you choose should also generate contrast. If the background and major design features are dark, balance them out with bright accent colors in the logo, headers, graphics, and photos.
3. Space
A dark design naturally feels heavy. Depending on how you space your elements, "heavy" can mean luxurious and powerful or cluttered and claustrophobic.
In any design, sufficient white space is necessary to balance the overall look, give the eyes a break, and emphasize the content, and this principle is all the more important in a dark-colored website.
Create more empty space by spreading out the text and images and confining them to only a portion of the page. Aim for simple, clean lines, an uncluttered layout, and a minimal number of elements. For example, one large photograph works better than a dozen small pictures. You should also space out your text by increasing the kerning, using a sans-serif font designed for the Web, and increasing the size.
Dark designs are a great option for classy, creative, and cutting-edge websites. Utilize this option to its fullest potential by developing a sophisticated brand, creating sufficient contrast, and balancing the page with empty space.
360 Online Marketing is an internet marketing firm in Boulder, CO specializing in internet marketing. Visit their site here: www.360onlinemarketing.com.