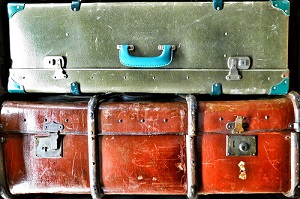 Vintage suitcases can get a new shine when you change their use, you can create very interesting furniture…
Suitcases are most often used a few times per year. That is good as it is bad. It means that they will serve you for a number of years, because they aren't used often, but it also means that you will probably have to change them, because they'll rot just sitting around.
Old suitcases often take up place on attics and collect dust. There are so many ways you can use old suitcases in your home as decor or for storage. Vintage suitcases can get a new shine. You can create interesting armchairs, tables, drawers, and much more.
Suitcase coffee table
Having in mind the dimensions and the shape, you can make a wonderful coffee table from old suitcases. They are practical, very original, and depending on your preferences, you can make a small coffee table or a large coffee table. Unique furniture doesn't have to be expensive. Depending on the amount of light falling on it, and the color, they can look amazing. Consider installing blinds to determine what light suits it best. You can easily make an original piece of furniture from your old suitcase. All you need to do is put four legs on a suitcase.
A pet bed from an old suitcase
You may not be able to use it again, but your pets will surely be thankful if you made them a nice and cozy bed. An old suitcase is an excellent bed for your cat or small dog. You should find a small mattress for it. You can also add some dog toys.
A suitcase as a storage space
An old suitcase can also be used as a storage space. The exterior of the suitcase can be decorated with various images and designs. You can paint on the suitcase or cover it with decorative fabrics. It's an excellent way of organizing everything and a great way for getting a nice decor in your home.
A place for make up and jewelry
Old suitcases can be transformed into original boxes for your jewelry and make up. Of course, they should be relatively small. You can transform your suitcase and decorate it in any way. You can use different fabrics, add light inside, even a few drawers, if you have enough space.
A mini cupboard from a suitcase
Old vintage suitcases can be used as original cupboards. You can add shelves, hooks and everything else you want. This cupboard can be used to store books, cleaning agents, even sunglasses and wine bottles. Such mini cupboards can be put anywhere and can easily fit into every interior.
As you can see, there are many different ways that can be made from old suitcases. For example, you can use old suitcases as a space for storing things in your kitchen or as shelves. You can also transform them into original flower pots that can be used inside, as well as outside.
Milan Budimkic is a creative freelance writer for industries that include but are not limited to the travel, sport, entertainment, internet marketing, and much more. When not blogging, Milan likes to travel and read a lot.