As we age, our joints and stamina can decrease, making mobility a problem. Moving around the house as well as outside the same can start to be issues, especially with such conditions as arthritis and respiratory conditions. We would still like to retain our independence and not have to rely on others to move us around.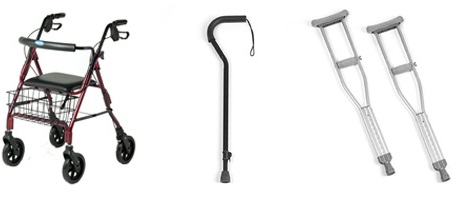 Walking aids are designed to give those with mobility issues a chance to move around safely and remain stable. There is a wide range of aids and equipment that can help with this. Not only can they help with mobility for the elderly, but can help people with a walking disability as well, giving both a better quality of life.
Below we have listed a few types of mobility aids along with their features to give you an idea of what is suitable for you:
Walking sticks
Designed to keep you balanced, a walking stick can be a cost effective approach to keeping mobile around the house as well as outside. Walking sticks can come in a variety of models from a traditional wooden stick to lightweight folding models and lacquered styles that vary in colours.
A walking stick should reach the height of the users wrist, which places the handle at a comfortable position. Most modern models of sticks can be height adjustable to suit the user's needs. For those with stiff or painful hands, an ergonomically designed handle can support distributing your weight more easily.
Walking frames
Suitable for steady and safe walking, the walking frame comes with rubber ferrules on the bottom of the legs to prevent slipping. Models can be made from extruded aluminium so they can be easy to lift and manoeuvre.
The frame has four legs, designed to support stability on the ground, the more legs, the more stable the frame will be. When choosing a walking frame (or Zima frame), opt for a model that can be folded away when not in use to save space. Like the walking stick, they are a cost effective approach to walking as the only maintenance they require is to ensure the ferrules on the bottom are not worn. A walking frame can come with padded handrails and vertical handgrips for comfort and support.
Wheelchairs
The more common of the mobility aids. They can help with those who have trouble walking short distances. You can purchase transit models that are designed for short-term use which are portable and lightweight, ideal for when you are out for the day. Nowadays, wheelchairs can come in motorised models, which can increase mobility as well as provide the user to get around without having to manually propel the chair. If considering purchasing a motorised wheelchair, you will need to think about obtaining a battery that is long lasting, alongside purchasing and sourcing spare parts for maintenance.
Mobility aids are a great approach for those who cannot be mobile retain their independence without having to rely on others. Choosing the right aid can help promote a better quality of life those who are unable to perform daily tasks due to mobility problems. Specialists can provide expert advice on mobility aids and which ones are suitable for your needs.
By Harry Price
Harry Price has a passion for cooking exotic meals and loves nothing more than entertaining his friends in the comfort of his own home.