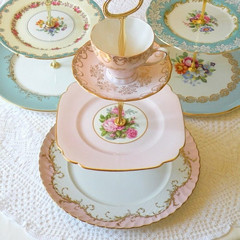 Often times, with busy work schedules, household chores, grocery trips and other elements of life, we neglect to find the time to simply take a break and play with our children. Some of us have forgotten how to play and wouldn't even know where to begin!
Hosting a tea party for your little girl is a fun mommy and me activity that she will enjoy and remember as a special engagement that was just for her and her mommy. Creating memories with your princess is an important part of childhood development and her future respect and admiration towards you.
Here are some how-to tips that will ensure your tea party is a hit!
The Setting
First, you have to create the setting for your mommy and me tea party. You will obviously need a table and a couple chairs for hosting the event. If your little girl has a table and chair set up, I'd opt to utilize this for the party. It will help to make it extra special and keep the party at her level! If not, it is acceptable to use the dining room table, as well.
Choose to set the table with an elegant table cloth and linen napkins. Dress up and make this a formal engagement. I suggest tiaras to add to the formality of the event. Your little girl will love it and will feel like the little princess she is!
The Guests
The guests are a very important factor to the event. Seat your daughter's favorite dolls and stuffed animals around the table. Yes, mommy, this means you will be playing with your daughter and using your imagination by engaging tea time conversation with her favorite toys. You can dress the dolls and stuffed guests with fun party hats to make it more of a party, or choose to keep a more formal and elegant setting with matching mommy and daughter tiaras and let the guests fend for themselves! Or mix it up and do both, it's your party, after all.
The Food
Tea parties have many options when it comes to your food choices. You can create fun finger foods such as pigs in a blanket or cucumber sandwiches. You may also choose to have a selection of pastries, cookies and fudge. A tea cup stand is the perfect way to pull your elegant tea party theme together and also provides an endearing way to display your food selection. With separate tiers you may opt to have sandwiches and croissants on one tier while filling the other tiers with chocolate assortments and delicious pastries.
The Tea
You can't have a tea party without tea! There are many delicious tea assortments to choose from such as: chamomile, earl grey, English breakfast and peppermint tea. Peppermint tea, benefits your tummy's if you choose to cater the party with rich pastries and fudge, because peppermint naturally settles your stomach. It also aids in hunger, so may guard against an overindulgence. Sugar cubes rather than loose granulated sugar is a more fun way to garnish the table.
To top the tea party off, instruct your daughter on proper tea party etiquette with manners such as: placing your linen napkin on your lap and how to tap the spoon on the side of the tea cup once you have stirred in desired sugar and cream. Trust, she will love it and you may find yourself eager to plan another tea party real soon!
+Laura offers a variety of independent designs for him and her jewelry and home decor at styleoutsidethebox.com.