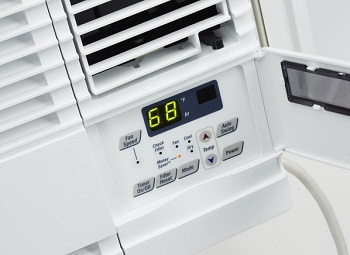 There are new AC units being introduced each year. The units come equipped all types of features and a range of performance settings. Over time, air conditioner starts to suffer in performance due to normal wear and tear. If the older unit in your home isn't putting out as much air it used to, then it may be time to consider purchasing a new unit. Finding the best window AC unit for your home doesn't have to be a hassle.
Common AC terms
Shopping for an air conditioning unit can require a lot of research. Some people review online consumer ratings published by other users to learn more about the various units available. When reviewing specifications, there are some terms that can confuse the average consumer who may purchase a window unit every once in a while.
EER number: Refers to the seasonal energy efficiency ratio and is used to measure how much cooling a system can produce in proportion to energy that is consumed. The higher the rating, the better the efficiency is for the unit.
The Sound db: The sound db refers to the amount of sound produced by the unit when it is operated. Most sound db have a range between the 47-63 dB for the typical window unit. A lawnmower is typically 90 dB while a conversation between two people is about 60 dB.
Chlorine free refrigerant: The chlorine refrigerant is considered to be a very eco-friendly option. The most common form of chlorine refrigerant is R-410A.
BTU: is used to measure one single unit of energy. One single unit is considered about 1055 joules. The higher the BTU, the more power the unit has.
CFM: CFM measures the airflow. The typical unit produces approximately 400 CFM for every ton of the capacity it has for cooling.
Top Units
Friedrich Chill CP08G10A
The Friedrich Chill has a very low noise level and an 11.2 EER. The unit is a 7,800 BTU Room Air Conditioner. It operates with R-410A refrigerant. The convenient unit comes with programmable time settings and a remote control. Unit also features with a four-way air flow control.
Frigidaire Energy Star FFRE1033Q1
The Frigidaire Energy Star is an 8,000 BTU unit and has an 11.3 EER. The air conditioner comes with temperature sensing remote control features. The compact unit is designed to be quickly mounted in any window and can be set up to distribute air in eight different ways for maximum comfort. The ionizer component can remove pollen, toxins and other impurities from the air, a bonus for allergy sufferers. Air conditioner settings include auto cool, sleep and energy saver. Unit also features a check filter alert.
Danby DAC6011E
The Danby is a 6,000 BTU unit, making it ideal for a smaller room of approximate 250 square feet. The unit has an efficiency ratio of 10.7. Energy saver and sleep modes help lower energy costs. A two-way air directing mechanism permits area targeting for cooling trouble spots. Easy to read LED displays make it easy to operate and adjust in a dark room.
Of the three units, we recommend the Frigidaire Energy star because of its ionizer and temperature sensing remote control features. This is because it can be helpful for allergy sufferers in that it can remove odors and toxins from the air, in addition to featuring multiple energy saver settings.
Charlie Teschner started MESA Plumbing, Heating, and Cooling in 1982. Charlie has a journeyman and master plumber's license. He was raised with a strong work ethic and he now applies those values to tasks such as Boulder heating repair.