Leather, when on someone, is sleek and attractive. For as long as you can pull of this hide even in sweltering heat, you are sure to exude an air of elegance, mystery and strength all at the same time. However, what if you have this hide on one of your furniture pieces, such as your sofa for instance?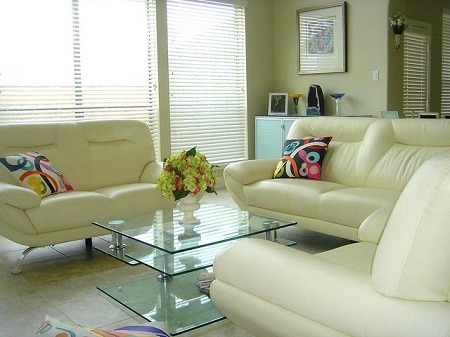 Even though leather sofas or ottomans have that very classic look, the fact is that they can make any space look very dark and heavy. Worse, if you don't know how to pair a leather chair or a leather sofa with something that complements its advantages and offsets its disadvantages, then you're going to end up with such a boring look.
Are you at a loss on how to style your leather furniture? Below are tips that can get your creative juices going:
Peacock Blue
A sofa that has leather upholstering has a rich and deep color. What best way to complement that piece of furniture than by painting the walls of your room in a color which is bold enough to tame the leather. One great choice would have to be peacock blue. This color is striking and rich enough without being off-putting. In fact, this color would do very well in small spaces such as tiny living rooms.
What to really create a cozy sitting room? Then pick out a Moroccan rug and a rugged, organic coffee table and you're leather chair would fit just right in. For an added twist, you can also come up with a gallery wall. This look is not only very cerebral and calm, but is also warm and homey at the same time.
Want to kick up your room's design a notch? Then why not add a hint of orange to the entire landscape. A little bit of orange goes a long way so just add an orange footstool or two, or an orange bench perhaps and you have a very edgy look.
Texture
Most leather chairs and sofa are colored black, brown or some permutation of both. If you want to go for the same color palette, then you would most undoubtedly go for a palette of either black or brown. If you've chosen to go the black route, then why not add a touch of gray to the mix? And to prevent the entire thing from becoming too depressing, add some texture while you're at it, too.
You can add in a low pile rug for texture or a faux fur throw pillow if you choose to. Professional designers from Nick Scali even suggests that if you have a brown colored sofa, then add white with your gray and black and your brown sofa will feel right at home.
Festive Throw Pillows
Because of the very somber color of leather, it works contrastingly perfect with throw pillows that are in bright colors. Switch up your throw pillows every now and then for you to instantly change the entire look of your leather couch as well as the ambiance of your room.
Jade Howell, a professional interior designer and writer, shares the best tips when it comes to home furniture. She has several interesting suggestions when decorating indoor spaces at home.